'Miss Bala' Soundtrack Released
JANUARY 25, 2019 | Submitted by Sony Masterworks / Soundtrack.Net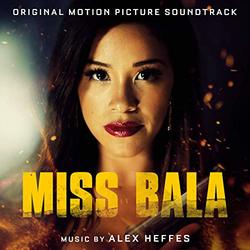 Sony Music proudly announces the release of Miss Bala (Original Motion Picture Soundtrack) featuring original music by Golden Globe nominee Alex Heffes (One Day in September, The Last King of Scotland, Touching the Void) – available everywhere Friday, January 25. The movie will debut in U.S. theaters in Friday, February 1.
Directed by Catherine Hardwicke and with a screenplay by Gareth Dunnet-Alcocer, Miss Bala tells the story of Gloria (Gina Rodriguez), who finds a power she never knew she had when she is drawn into a dangerous world of cross-border crime. Surviving will require all of her cunning, inventiveness, and strength. The movie stars Gina Rodriguez, Ismael Cruz Córdova and Anthony Mackie. The film is produced by Kevin Misher and Pablo Cruz, with Mauricio Katz, Gerardo Naranjo, Catherine Hardwicke, Gareth Dunnet-Alcocer, Samson Mucke, Arturo Sampson, Andy Berman and Jamie Marshall serving as executive producers.
"I've always been a big fan of Catherine Hardwicke's films and Miss Bala has all the energy and edge that is so characteristic of her work," says composer Alex Heffes of the soundtrack. "So I was excited to set about creating the musical world of Miss Bala and Tijuana provided a great musical backdrop to draw on. The gritty action called for the score to have a dark edge, so we ended up fusing a tough synth-driven sound with guitars and Latin percussion. As the lead character Gloria gradually outwits her captors and spreads her wings it felt like she needed her own action sound so you will hear her theme played out on high strummed guitars to give the shine that Gina Rodriguez brings to the character on the big screen."
Newsletter
Enter your e-mail address to receive weekly soundtrack and film score news: