WaterTower Music to Release 'The LEGO Movie 2' Soundtrack and Score Albums
FEBRUARY 6, 2019 | Submitted by WaterTower Music / Soundtrack.Net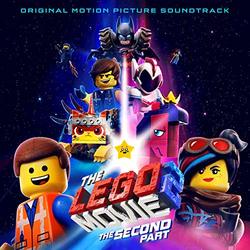 WaterTower Music today announced the February 7, 2019, digital release of two albums of music from the exciting new animated adventure The LEGO Movie 2: The Second Part, the much-anticipated sequel to the critically acclaimed global box office phenomenon that started it all, The LEGO Movie. Both a soundtrack album and a score album will be released on February 7, the day before the film comes to theaters nationwide from Warner Bros. Pictures.
The new music featured on the soundtrack collection includes the end title song "Super Cool," from Beck feat. Robyn & The Lonely Island, the infectious "Catchy Song" by Dillon Francis feat. T- Pain & That Girl Lay Lay and two songs performed in the film by Tiffany Haddish – the solo "Not Evil" and a hilarious duet with Will Arnett entitled "Gotham City Guys." Stephanie Beatriz performs on two songs - the solo "5:15" and, as part of a LEGO cast performance, one of the two reimagined versions of "Everything is Awesome" featured on the soundtrack. The second version of the song, titled "Everything Is Awesome (Tween Dream Remix)," is offered by comedy twosome Garfunkel & Oates. "Come Together Now" is performed by indie dance duo Matt & Kim; Yossi Guetta, Esther Guetta & Fiora Cutler perform "Welcome to the Systar System"; and Superorganism rounds out the album with "Hello Me and You."
Five of the songs on the soundtrack were written by Canadian comedian Jon LaJoie.
In addition to the soundtrack album, WaterTower Music is releasing a buoyant 34-track score album by Mark Mothersbaugh, the famed composer, performer, author, producer, designer and visual artist whose work has become part of pop culture consciousness.
The The LEGO Movie 2: The Second Part soundtrack is now available for preorder and will be available digitally on February 7, 2019. A CD will be available later this year.
Newsletter
Enter your e-mail address to receive weekly soundtrack and film score news: