'A Million Little Things' Soundtrack Released
MARCH 1, 2019 | Submitted by White Bear PR / Soundtrack.Net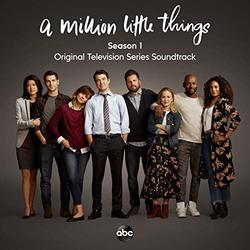 Hollywood Records releases the original series soundtrack to ABC's hit comedy drama A Million Little Things by composer, songwriter, producer and singer Gabriel Mann. The digital soundtrack is now available for download and at streaming services.
The soundtrack features original songs written by Gabriel, as well as reinvented covers of iconic songs performed by cast members and Gabriel, all of which are produced by him. From the start, creator/showrunner DJ Nash, Gabriel, and the rest of the music team discussed a very organic sound for the series. The music needed to reflect the raw, real-life issues the show is all about, while making sure the same sorts of sounds and instrumentation could be used to weave together this tight-knit group of friends. This resulted in very human orchestration – guitars, pianos, vintage keyboards, strings, and hand percussion.
A Million Little Things has been one of the most all-encompassing and collaborative projects Gabriel has worked on in his career as a musician. "The songwriting and song production world is one I feel very comfortable in, having been a solo artist and being in a band, and having produced many records over the years. It's been an absolute joy working with creator/showrunner DJ Nash and being able to give him exactly what he's looking for with score and songs. It truly takes a village, between the team on the show, Kaplan Entertainment, and ABC to make this all happen without a hitch," says Gabriel.
Newsletter
Enter your e-mail address to receive weekly soundtrack and film score news: