Lakeshore Records to Release 'Giant Little Ones' Soundtrack
MARCH 4, 2019 | Submitted by Lakeshore Records / Soundtrack.Net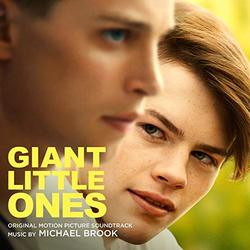 Lakeshore Records will release the Giant Little Ones - Original Motion Picture Soundtrack digitally on March 15, featuring original music by Golden Globe-nominated composer Michael Brook (Into the Wild, Brooklyn). Giant Little Ones written and directed by Keith Behrman (Flower and Garnet) and starring Josh Wiggins, Darren Mann, Taylor Hickson with Kyle MacLachlan and Maria Bello opens in New York March 1, Los Angeles, San Francisco and Washington DC March 8 and expands March 15 via Vertical Entertainment.
Franky Winter (Josh Wiggins) and Ballas Kohl (Darren Mann) have been best friends since childhood. They are high school royalty: handsome, stars of the swim team and popular with girls. They live a perfect teenage life – until the night of Franky's epic 17th birthday party, when Franky and Ballas are involved in an unexpected incident that changes their lives forever.
Giant Little Ones is a heartfelt and intimate coming-of-age story about friendship, self-discovery and the power of love without labels.
Says Brook: "It was such a perfect emotional balancing act, deeply moving and emotional, that I immediately wanted to get involved. Working with Keith and Allison turned out to be equally rewarding. I was struck how they both had such clear emotional goals for the score. Getting the film makers to articulate that is a major challenges for composers. "
Says Behrman: "When Michael agreed to compose the score for Giant Little Ones I was simultaneously excited and calmed. Excited that someone who I regard as legendary had agreed to take on my film. And, calmed that I was putting my film in the hands of someone of his special talent and skill. Both subtle and restrained, with equal parts wisdom and innocence, Michael's music evokes all the mystery, delicacy and strength that comes with loving truthfully. I couldn't have asked for more."
Newsletter
Enter your e-mail address to receive weekly soundtrack and film score news: