WaterTower Music to Release 'Shazam!' Soundtrack
MARCH 29, 2019 | Submitted by WaterTower Music / Soundtrack.Net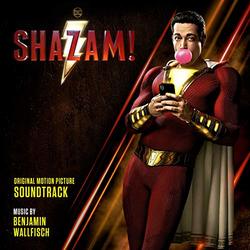 WaterTower Music is excited to announce the April 5 release of the soundtrack to Shazam! Directed by David F. Sandberg, New Line Cinema's superhero origin story will be in theaters April 5, 2019.
The 29-track Shazam! soundtrack album features original score by acclaimed composer Benjamin Wallfisch (Blade Runner 2049, It), under the direction of David F. Sandberg, with whom he worked on the box office hit "Annabelle: Creation.
"It's always such an incredible joy collaborating with David," explained Wallfisch. "Not only is he a visionary filmmaker, he's also a great musician. We both have a shared love of the classic superhero, fantasy and adventure scores of the `80s, and we started the Shazam! score by trying to channel the feeling of wonder and hope that incredible music gives you. It felt like being a kid again; I grew up in the `80s in total awe of, and in love with, that music."
Sandberg spoke about working with Wallfisch on the film's music. "Ben is the only composer I've worked with so far, and the guy is amazing," explains the director. "Something we talked about is that I wanted it to feel very much like a classic superhero score, because Shazam is a Golden Age Super Hero, and I wanted to honor that history."
The Shazam! Original Motion Picture Soundtrack is now available for digital and CD preorder. It will be available for streaming and for purchase digitally April 5, and on CD May 10.
Newsletter
Enter your e-mail address to receive weekly soundtrack and film score news: