Lakeshore Records to Release 'Late Night' Soundtrack
JUNE 5, 2019 | Submitted by White Bear PR / Soundtrack.Net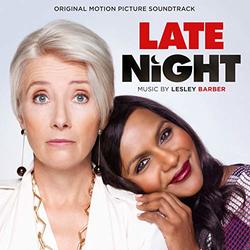 Lakeshore Records is set to release Late Night - Original Motion Picture Soundtrack digitally on June 7. The original score is by Lesley Barber (Manchester By The Sea, You Can Count On Me). A multi-instrumentalist, conductor and pianist, Barber's interest in modern electronic programming, loops, and effects adds dimension to her work, creating hybrid atmospheric scores with lush orchestration with an innate ability to bring the essential to light and avoid the cliché.
The Amazon Studios film directed by Nisha Ganatra, written and produced by Mindy Kaling, and starring Emma Thompson, Kaling, Hugh Dancy and John Lithgow is in theaters starting June 7 and nationwide on June 14.
After almost 30 years, a groundbreaking talk-show host suspects she may soon be losing her coveted seat on late-night television unless she manages a game-changing transformation.
Says Barber: "Writing the score for Late Night was a dream project. The collaboration process began from Mindy Kaling's genius script, creating a Late Night Band theme for The Katherine Newbury Show, and then working together with director Nisha Ganatra to create key themes from this central theme - to capture the humour, and emotional, moving moments. The score builds from this central theme, taking on lush string textures, an intimate indie guitar, and percussion approach."
Says Ganatra: "Making Late Night with Katherine Newbury believable meant that every detail of the show had to be created, not just the set. We composed a theme song, cast a band to be the Late Night band, cast the "crew" who work behind the scenes of the show…and then we had to plan our real crew shooting our Late Night "crew" in that same small space, all in 25 days. Hopefully no one will stop to think, 'What episodes?!' They also won't notice because Lesley Barber wrote a theme song to the Late Night show that is original yet sounds like something you have heard your whole life. We use that theme song as the basis for the score throughout the movie."
Newsletter
Enter your e-mail address to receive weekly soundtrack and film score news: