Lakeshore Records & Invada Records Announce 'Stranger Things' Season 3 Score Album
JUNE 28, 2019 | Submitted by White Bear PR / Soundtrack.Net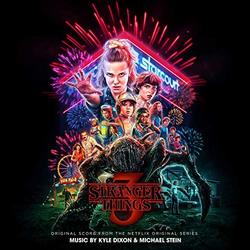 Lakeshore Records and Invada Records have released the Stranger Things 3—Original Score from the Netflix Original Series featuring music by Emmy-winning and two-time Grammy-nominated composers Kyle Dixon and Michael Stein, digitally on June 28. Half of the Austin band S U R V I V E, Dixon and Stein have been on board with the series since the first season creating strikingly dynamic music that has become a trademark of the show. In Season 3 evil has not ended, it has evolved and the duo has evolved with it as they continue to explore new sonic territory and instrumentation, such as the pop sensibilities and melancholic undertones of 50's doo-wop, that go beyond the 80's & 90's R&B inflections of past seasons. They also return to familiar themes that are elevated by bold stylized reworkings that reflect the growth of the characters and intensity of the new storyline. Lakeshore Records and Invada Records will release the album digitally worldwide on June 28 with CD and vinyl versions forthcoming. Stranger Things 3 will debut on Netflix on July 4.
It's 1985 in Hawkins, Indiana, and summer's heating up. School's out, there's a brand-new mall in town, and the Hawkins crew are on the cusp of adulthood. Romance blossoms and complicates the group's dynamic, and they'll have to figure out how to grow up without growing apart. Meanwhile, danger looms. When the town's threatened by enemies old and new, Eleven and her friends are reminded that evil never ends; it evolves. Now they'll have to band together to survive, and remember that friendship is always stronger than fear.
"With the Season 3 soundtrack, we've made an album that doesn't feel like a 'score' necessarily, but one that feels more like a stand-alone record than a collection of brief cues. We've incorporated the main narrative elements of the series and stayed true to the original sound while at the same time expanding on our musical palette—we often pushed it to the limit. We've really made an effort to curate this album to showcase the moments we think are really special."
Newsletter
Enter your e-mail address to receive weekly soundtrack and film score news: