'Ready or Not' Soundtrack Released
AUGUST 23, 2019 | Submitted by Disney Music / Soundtrack.Net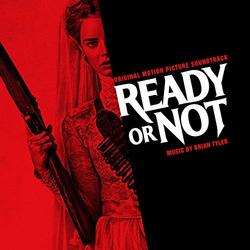 Fox Music releases the original motion picture soundtrack to Ready or Not, directed by Matt Bettinelli-Olpin and Tyler Gillett. The score was composed and conducted by Brian Tyler and is available digitally today.
Fox Searchlight's Ready or Not follows a young bride (Samara Weaving) as she joins her new husband's (Mark O'Brien) rich, eccentric family (Adam Brody, Henry Czerny, Andie MacDowell) in a time-honored tradition that turns into a lethal game with everyone fighting for their survival.
On his score for the Fox Searchlight fantastical genre film, Tyler said, "Ready or Not was an incredible opportunity to fuse completely unlikely tones: elegance, insanity, and beauty. The narrative and aesthetic of the movie calls for such a pairing with its gorgeously shot rich set pieces and costumes set against the psychotic mania of the story. The directors and producers of the film are true movie lovers and amazing collaborators, many of whom I have worked with for decades. This project was a labor of love and we dove into it head first. I composed primarily a classical chamber string score with romantic themes containing hints of an unhinged tone that builds throughout the score to the climactic, glorious, demented finale."
Newsletter
Enter your e-mail address to receive weekly soundtrack and film score news: