Benjamin Wallfisch Signs with The Gorfaine/Schwartz Agency
SEPTEMBER 17, 2019 | Submitted by White Bear PR / Soundtrack.Net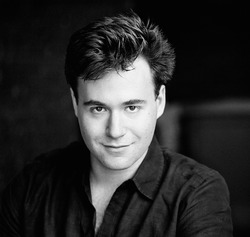 The Gorfaine/Schwartz Agency, Inc. (GSA) is delighted to announce the signing of Golden Globe-, BAFTA-, Grammy- and Emmy-nominated composer Benjamin Wallfisch for worldwide representation, in partnership with London-based agency COOL Music Ltd.
Recognized as one of the leading Hollywood composers of his generation, Wallfisch recently scored It Chapter Two, which just held its box office position as #1 film in the world for its second weekend, and is also known for his scores for critically acclaimed movies Shazam!, Blade Runner 2049 (with Hans Zimmer) and Academy Award Best Picture nominee, Hidden Figures. A recent Emmy nominee for his score for Nat Geo's Hostile Planet and a two-time Grammy nominee, Wallfisch has worked on over 75 movies to date.
"Ben is an enormously talented composer and musician," said Michael Gorfaine, "and we are truly delighted to welcome him to the GSA family."
"We are greatly looking forward to working with Ben as he continues to build what is already a very impressive career in film music," added Samuel Schwartz.
"We are thrilled to be working on this exciting, new worldwide collaboration with Mike, Sam and the GSA team to create the perfect environment for Ben to thrive," said Darrell Alexander.
Wallfisch added "I'm truly honored to be joining the exceptional GSA family, in this exciting new collaboration with COOL Music Ltd. Mike and Sam are living legends and represent many of my childhood heroes. I'm very much looking forward to working with them and the whole GSA team."
Newsletter
Enter your e-mail address to receive weekly soundtrack and film score news: