Decca Records Announces 'Why We Hate' Soundtrack
OCTOBER 25, 2019 | Submitted by White Bear PR / Soundtrack.Net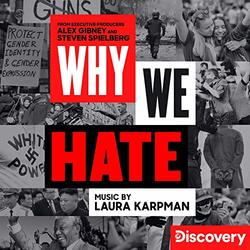 Decca Records has announced the digital release of the Original Soundtrack to Discovery Channel's 6-part documentary series Why We Hate, scored by four-time Emmy-winning composer Laura Karpman. The docuseries is executive produced by Oscar-winning filmmakers Steven Spielberg and Alex Gibney and directed by Emmy-winners Greeta Gandbhir and Sam Pollard.
Why We Hate explores one of humanity's most primal and destructive emotions – hate. At the heart of this timely series is the notion that if people begin to understand their own minds, they can find ways to work against hate and keep it from spreading. The series began airing on Discovery Channel on October 13th, and additional episodes will air each subsequent Sunday.
"Why We Hate is one of the most significant projects I've ever worked on," says Laura Karpman. "The music embodies every aspect of the human condition, from the most violent explosions of hate, to the most touching elevations of redemption. The music of the main title is large and orchestral, weaving a melody layered over the circle of fifths, so that the music never feels like it's beginning and never feels like it's ending. Like evolution and the anatomy of human struggle, the music goes and goes and goes – relentless and filled with hope."
Newsletter
Enter your e-mail address to receive weekly soundtrack and film score news: