Silva Screen Records to Release The Musical Anthology of 'His Dark Materials'
OCTOBER 31, 2019 | Submitted by White Bear PR / Soundtrack.Net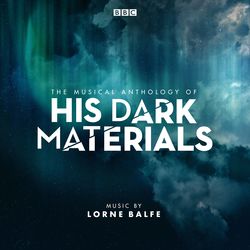 In this introduction to the music from the television series, composer Lorne Balfe delves into the story and character themes from His Dark Materials, the new adaptation of Philip Pullman's acclaimed trilogy. Performed by the BBC National Orchestra of Wales, the soundtrack album has attracted a stellar cast of additional contributing recording artists. The series will have its global premiere on Sunday, November 3rd on BBC One and on Monday, November 4th on HBO. The first soundtrack album – one of two soundtrack releases for the series – will release digitally on November 3rd followed by CD and vinyl releases later.
For His Dark Materials, Lorne Balfe has assembled a superb, diverse, and devoted cast of performing artists to present the exquisitely crafted new musical themes. Already fans of the book and wanting to contribute to the show, the album connects singer KT Tunstall, drummer Chad Smith (Red Hot Chilli Peppers), cellsit Tina Guo (Hans Zimmer Live and The World of Hans Zimmer), post-modern composer-cellist Peter Gregson, steam punk influenced violinist and dancer Lindsey Stirling, classical horn player Sarah Willis, BAFTA award winning composer, multi-instrumentalist Richard Harvey and Vanya Moneva's Ethnic Bulgarian Choir.
Presented on this soundtrack album are the opening title theme, together with key character themes for the young protagonists Lyra, Roger and Will and the adults Mrs. Coulter, Lord Asriel and Lee Scoresby. Other themes present the majestic locations of Oxford and Svalbard, the people that Lyra encounters on her epic journey, the Gyptians, the Witches of Lake Enara, the machinations of The Magisterium, and The Alethiometer, the device that helps set all the events in motion.
"Since the beginning, myself and the rest of the music team knew we wanted a mixture and a hybrid," says Lorne. "What I wanted people to feel when listening to the music is they don't necessarily know if it's real or not or whether it's in the present or in the past. There are no rules and musically, it's constantly evolving. Another crucial element we strived to accomplish was to always have a clear journey of each character's theme. I wrote their themes separately as a journey, so that we knew musically what would happen throughout the series."
The leading cast for His Dark Materials includes Dafne Keen as Lyra, Ruth Wilson as Mrs Coulter, Lin-Manuel Miranda as Lee Scoresby, James McAvoy as Lord Asriel, Clarke Peters as The Master of Jordan College, James Cosmo as Farder Coram and Anne-Marie Duff as Ma Costa, with Will Keen as Father McPhail and Ariyon Bakare as Lord Boreal.
Newsletter
Enter your e-mail address to receive weekly soundtrack and film score news: