Milan Records Announces 'Dickinson' Season 1 Soundtrack Album
NOVEMBER 1, 2019 | Submitted by Sony Music Masterworks / Soundtrack.Net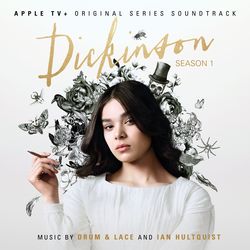 Milan Records, an imprint of Sony Music Masterworks, today releases the soundtrack for Apple's Dickinson - Dickinson: Season 1 (Apple Original Series Soundtrack) with music by Drum & Lace and Ian Hultquist is available now exclusively on Apple Music and iTunes. The album features music from Apple Original Dickinson, starring Hailee Steinfeld as poet Emily Dickinson in a darkly comedic coming-of-age story. All episodes of Dickinson will debut exclusively on Apple TV+, a new home for the world's most creative storytellers, on November 1.
"Getting the chance to score Emily Dickinson's world was really exciting to us from the start, as what Alena Smith (creator, showrunner and executive producer) has created with this show is really special and unique," say composers Drum & Lace and Ian Hultquist of the soundtrack. "Incorporating modern musical sensibilities against the contrasting setting of the 1850s was a thrilling challenge, and we had a fun time pulling it together. For the score, we were inspired by legendary performers such as The Prodigy and Missy Elliott, but also gave nods to the current musical landscape with artists like Billie Eilish and Lizzo. The use of vocals in the score gave us a way to tap into Emily's mind and externalize her thoughts and struggles through music."
Dickinson is a half-hour comedy series starring Oscar® nominee Hailee Steinfeld. Created by Alena Smith, Dickinson audaciously explores the constraints of society, gender, and family from the perspective of rebellious young poet Emily Dickinson. Created, written and executive produced by Alena Smith and executive produced by Hailee Steinfeld, "Dickinson" stars Hailee Steinfeld, Jane Krakowski, Toby Huss, Anna Baryshnikov, Ella Hunt, and Adrian Blake Enscoe. Wiz Khalifa guest stars. Additional executive producers for the series include Paul Lee for wiip, Alex Goldstone for Anonymous Content, Michael Sugar and Ashley Zalta for Sugar23 Productions and Darlene Hunt. David Gordon Green serves as director and executive producer. Dickinson is produced by wiip, Anonymous Content and Sugar23.
Newsletter
Enter your e-mail address to receive weekly soundtrack and film score news: