WaterTower Music Announces 'The Good Liar' Soundtrack
NOVEMBER 8, 2019 | Submitted by WaterTower Music / Soundtrack.Net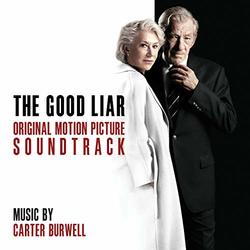 WaterTower Music is excited to announce today's digital release of the soundtrack to The Good Liar, a thriller from New Line Cinema about the secrets people keep and the lies they live. The film stars legendary actors Helen Mirren and Ian McKellen), together on the big screen for the first time. Directed by Bill Condon and based on the widely acclaimed novel by Nicholas Searle, The Good Liar hits theaters nationwide November 15. The music from the film is composed by Emmy Award winning and two-time Oscar nominated composer Carter Burwell (Three Billboards Outside Ebbing, Missouri, Carol).
Condon, who won an Oscar as screenwriter of Gods and Monsters, glowingly discussed his frequent creative collaborator and what the composer brings to the music of The Good Liar. "Carter is a master of bringing out emotions that may exist under the surface and, if you go back and know what you're looking for, he has a wonderful way of dropping little musical clues throughout. The scoring is the final element that ties all the pieces together."
Burwell further elaborated on the film and its music. "The Good Liar opens with a classic overture, during which the main characters and their musical themes are introduced. The characters meet and we see that, like most people, they are not completely honest with each other. But five minutes into the film you know the level of deceit is much more serious than that."
"As is obvious from its title," the composer continued, "The Good Liar is about untruth, so early on I asked Bill how much lying the music should do. He felt the most important role for the score was to keep drawing us in, weaving its own web to tangle us enjoyably in the misdeeds we're watching. Not so much lying to the audience as making them co-conspirators."
Newsletter
Enter your e-mail address to receive weekly soundtrack and film score news: