'Noelle' Soundtrack Released
NOVEMBER 12, 2019 | Submitted by Disney Music / Soundtrack.Net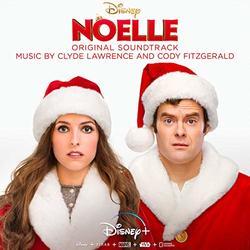 Walt Disney Records releases the Noelle digital soundtrack, streaming exclusively on Disney+ today. The album features score composed by Clyde Lawrence and Cody Fitzgerald.
For the Noelle score, writer-director Marc Lawrence chose to keep it within the family. His son Clyde wrote the score with his scoring partner, Cody Fitzgerald from the band Stolen Jars, making them two of the youngest composers to ever score a film for Disney. His daughter Gracie and Clyde's band, Lawrence, wrote and perform two original songs on the soundtrack and perform an additional four songs.
"Cody and I come from different backgrounds, but we realized there was this through line of vulnerability, honesty, nostalgia, and warmth that we were both really passionate about," says Clyde Lawrence. "That big breakthrough made us realize that we were great partners for film scoring and other collaborations."
"Clyde and I really had a vision for the score, which is a combination of both of our styles: soul, pop and indie rock plus a hip-hop vibe," says Fitzgerald. "Then mixing it with Disney and Christmas makes it turn into something that really feels right for the movie."
Newsletter
Enter your e-mail address to receive weekly soundtrack and film score news: