Lakeshore Records Announces 'The Report' Soundtrack
NOVEMBER 15, 2019 | Submitted by White Bear PR / Soundtrack.net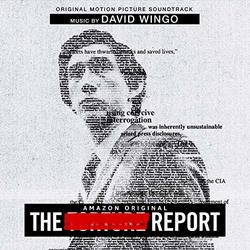 Lakeshore Records announces the release of The Report—Original Motion Picture Soundtrack which is now available digitally. Composed by Emmy-nominated David Wingo, the score is redolent with atmospheric electronics providing a subtly intense backdrop to the thriller. The Amazon Original, directed by Scott Z. Burns and starring Adam Driver, Annette Bening and Jon Hamm, is in select theaters today, November 15 and streaming on Amazon Prime Video November 29.
The Report is a riveting thriller based on actual events. Idealistic staffer Daniel J. Jones (Adam Driver) is tasked by his boss Senator Dianne Feinstein (Annette Bening) to lead an investigation of the CIA's Detention and Interrogation Program, which was created in the aftermath of 9/11. Jones' relentless pursuit of the truth leads to explosive findings that uncover the lengths to which the nation's top intelligence agency went to destroy evidence, subvert the law, and hide a brutal secret from the American public. The Report is written and directed by Scott Z. Burns and features outstanding performances by a powerful cast led by Adam Driver, Annette Bening, and Jon Hamm. Sarah Goldberg, Michael C. Hall, Douglas Hodge, Fajer Kaisi, Ted Levine, Jennifer Morrison, Tim Blake Nelson, Linda Powell, Matthew Rhys, T. Ryder Smith, Corey Stoll, and Maura Tierney complete the powerful ensemble that brings this essential story to life.
Says Wingo: "In some ways, I feel like I'd been preparing my whole career to do the score for The Report. I've always been so drawn to the kind of tightly-wound investigative thrillers like All the President's Men and The Conversation, which this film feels like a descendant of, and the way David Shire's scores create an atmosphere of such claustrophobia, anxiety and nervous anticipation over what are essentially scenes of people talking and exchanging information, has always been such a subtly impressive and inspiring feat to me. Along with that, Cliff Martinez's work on Steven Soderbergh's films, including of course Contagion (which Scott Z. Burns wrote), have always provided a real guiding light for me in terms of his approach to composing non-traditional film music for these same kinds of intelligent, tightly-wound films. So, when I got the call about The Report and learned what the subject matter was, who was behind it, and saw a cut of the film – I really did feel like all the work I'd done led me to this point where hopefully, I had learned enough to be able to adequately write the kind of score for the type of film that has always been so important and inspiring to me both as a composer as well as a film-lover. I am endlessly thankful to Scott and the team for trusting me to provide the music for such an important and timely film as this. Having the opportunity to work on it with them was most certainly a creative and career highlight up to this point for me."
Newsletter
Enter your e-mail address to receive weekly soundtrack and film score news: