'Ford v Ferrari' Soundtrack Released
NOVEMBER 15, 2019 | Submitted by Disney Music / Soundtrack.net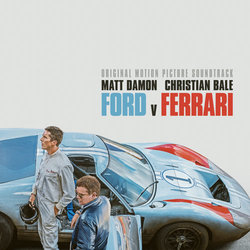 Fox Music/Hollywood Records releases the digital original motion picture soundtrack to Ford v Ferrari, directed by James Mangold. Marco Beltrami and Buck Sanders composed the music for Ford v Ferrari, which was recorded at the legendary Capitol Records Studio in Hollywood. The soundtrack includes three score cues alongside classic 1960's tracks including "Money (That's What I Want)" by The Kingsmen, "Have Love Will Travel" by the Sonics and "I Put a Spell on You" by Nina Simone.
The album also includes "Polk Salad Annie (Ford v Ferrari Remix)," an exclusive remix by Grammy Award-winning producer/mixer/writer David Sardy (The Rolling Stones, Oasis, Fall Out Boy) who worked from guitarist James Burton's original multi-track tapes to create a riveting new mix of the guitar rock classic. The Ford v Ferrari soundtrack and score album are available today, as the film opens in U.S. theatres.  
 
Mangold originally collaborated with composer Beltrami and his "right-hand man," audio experimental producer Sanders on 3:10 to Yuma, for which Beltrami's score received an Academy Award nomination. The pair then reunited with Mangold on The Wolverine and Logan. For Ford v Ferrari, Beltrami and Sanders shared scoring duties. Their original music was inspired by the energy and grit of 1960s garage bands, which led to the choice to record with a 15-piece band including 3 guitars, keyboards/piano, organ, bass, standup bass, drums, percussion and a horn section.
Newsletter
Enter your e-mail address to receive weekly soundtrack and film score news: