Movie Information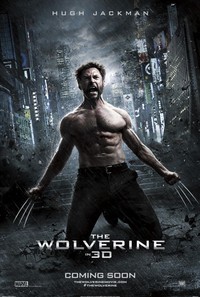 The Wolverine
Released: July 26, 2013
Credits
Song Credits
"REQUIEM KV 626 – SEQUENTIA REX TREMENDAE"


Written by Wolfgang Amadeus Mozart
Courtesy of Crucial Music Corporation

​"SIX FEET UNDER"


Written by Roland Pierrehumbert, Fred Gudit, Michel Demierre, Boris De Piante, Lionel Blanc, Juerg Naegeli & Jacques Marion
Performed by Sideburn
Courtesy of Sideburn Music

"SYMPHONY IN D MINOR, MVMT 1"


Written by Cesar Franck
Arranged by Christopher Todd Landor
Courtesy of The Music Collective

​"LOW"


Written by David Lowery, John Hickman and David Faragher
Performed by Cracker
Courtesy of Virgin Records America, Inc.
Under license from Universal Music Enterprises

"DRAGON DANCE"


Written by Luke Steele and Hugh Jardon
Courtesy of 5 Alarm Music

"CIELO ESTRELLADO"


Written and Performed by Kensuke Mitome ?Gouta Wakabayashi
Courtesy of SWITCH, Inc.

"CALLING OCCUPANTS OF INTERPLANETARY CRAFT"


Written by Terry Edward Draper and John William Woloschuk
Performed and Produced by Tara Busch

​"IKIGAI"


Written by Michio Yamagami & Tsuyoshi Shibuya
Performed by Saori Yuki
Courtesy of EMI Music Japan
Under license from Universal Music Enterprises

"SONO TOKIGA KURUMADE, FEAT. K DUB SHINE"


Written by DJ PMX, K DUB SHINE
Performed by DJ PMX
Courtesy of Victor Entertainment, Inc.

​"PERSON IN POWER"


Written by George Mathews and Glide Flores
Courtesy of The Music Collective

"ONNA, KANASHI, OTONA"


Written by Yoshiko Miura and Tsunku
Performed by Sexy Otonajan
Courtesy of Up-Front Works Col, Ltd. / Hello! Project

​
Trailer Music Used From
Theatrical Trailer
"Vindicator" - Chris Haigh
Trailer #1. Music from Immediate Music - featured from ~1:34 to the end of the trailer.
"Destroyer of Worlds" Revolution Zero - Ninja Tracks
Trailer #1. Played over the first part of the trailer.
Teaser Trailer
"Legionnaire" - Music Junkies
"The Curse" TV spot.
News &amp Articles
Missing Information?
If any information appears to be missing from this page, contact us and let us know!