Filmtrax Announces 'The Tax Collector' Soundtrack
AUGUST 21, 2020 | Submitted by White Bear PR / Soundtrack.Net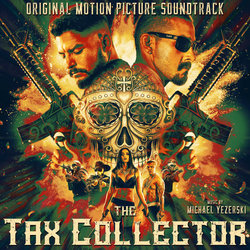 Filmtrax (via BFD/The Orchard) has digitally released the Original Motion Picture Soundtrack to David Ayer's indie crime thriller The Tax Collector, which was released on August 7 by RLJE Films. The film topped the box office its opening weekend, claiming the No. 1 spot. The Hollywood Reporter says composer Michael Yezerski's original score brings a sense of "churning dread." The Tax Collector is available on digital and On Demand.
Contrary to what is expected for a crime thriller, David Ayer wanted a heartfelt score. Michael came up with an understated score that plays into the emotion, rather than the violence taking place on screen. Michael describes the music as "humanistic," where he utilized his own vocals, guitars, and strings to accomplish this sound quality. The characters have tough exteriors, but the score hints at the undercurrent of emotional turmoil within them.
"With a blend of acoustic folk, hip hop, and Latin influences, this score sounds like nothing else I've done. I take inspiration from sounds that these characters would listen to in their daily lives. Yes, the music is gritty and dark, but it's also deeply humanistic and even beautiful at times. This is musical world-building to match the epic imagery and frenzied action of David Ayer's vision," says Michael Yezerski.
Newsletter
Enter your e-mail address to receive weekly soundtrack and film score news: