Milan Records to Release 'Godfall' Soundtrack
NOVEMBER 6, 2020 | Submitted by Sony Music Soundtracks / Soundtrack.Net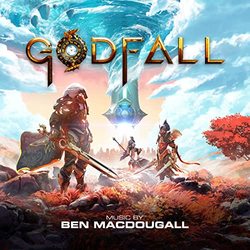 Milan Records today announced the release of Godfall (Music from the Video Game) by composer Ben MacDougall. Available everywhere Friday, November 13, the album features music from the history-making Sony PlayStation 5 launch title and groundbreaking fantasy-action, roleplaying game. Making its debut alongside today's announcement is Godfall's main theme song, "Aperion's Champion," which can be heard here. Godfall releases in stores and online in tandem with the global arrival of the new PlayStation 5 system starting on Thursday, November 12.
Of the soundtrack, composer Ben MacDougall says, "I'm thrilled that the musical experience of Godfall is going to be available both in and outside of the game, and to be partnering with Milan Records on it is awesome. Whether it's the sweeping cinematic moments, the heart-pounding combat sequences, or the music denoting the incredible world of Aperion that draws you in, writing this score was an amazing journey."
The album features 40 tracks, capturing the spirit of action and adventure at the heart of Godfall. Granting an early glimpse of the album's breadth and scope, audiences enjoyed a preview of the sweeping score in Sony's Godfall – Cinematic Intro: The Fall | PS5 video. Within a month, it generated 725K YouTube views and counting. Prior to this score, MacDougall cemented himself as a dynamic musical voice in visual media with credits ranging from video games such as Marvel vs. Capcom: Infinite to numerous theatrical campaigns and TV shows.
Newsletter
Enter your e-mail address to receive weekly soundtrack and film score news: