Sony Music Announces 'The Mitchells vs. The Machines' Soundtrack
APRIL 30, 2021 | Submitted by Sony Masterworks / Soundtrack.Net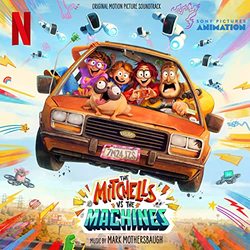 Sony Music Masterworks today releases The Mitchells vs. The Machines (Original Motion Picture Soundtrack) with music by prolific composer, singer, multi-instrumentalist and co-founder of DEVO Mark Mothersbaugh. Now available everywhere, the album includes score music written by Mothersbaugh for the animated film, which follows an eccentric family in the middle of the robot apocalypse. The soundtrack is the latest in a longstanding creative partnership between Mothersbaugh and film producers Phil Lord and Chris Miller, having previously worked together on titles like The LEGO Movie, 21 Jump Street, Cloudy with a Chance of Meatballs and more. Included within the 36-track collection is a new original song from Australian singer-songwriter Alex Lahey entitled "On My Way" – listen to the uplifting, indie-pop anthem here. Featuring the voices of Abbi Jacobson, Danny McBride, Maya Rudolph, Beck Bennett, Fred Armisen, Eric Andre and Olivia Colman, The Mitchells vs. The Machines is now streaming globally only on Netflix.
Of the soundtrack, composer Mark Mothersbaugh says, "Just thinking about working on this film during a once-in-a-century, world-wide pandemic makes you want to draw correlations between the story of the film and what was happening in this world (the so-called real world). Doing so really gave everything more meaning and added gravitas to an already amazing project to begin with. I will always remember this film for the added attention the pandemic allowed the directors and producers to bring to it, as we were able to work on an extended schedule. It gave us the rare chance to play with the parts, to get them just the way we wanted them and to make a dang-near perfect film!"
"'On My Way' is a song about new beginnings. I really wanted to capture Katie's sense of urgency to grow up and expand her horizons while still being grateful of where she has come from and the people that have gotten her where she is. It's that push and pull of being on a path towards something new and exciting while remembering and celebrating what you're leaving behind. I think that is something we can all relate to. 'On My Way' is one of my favorite songs I have ever worked on and I am so happy it has found a home in the wild world of the Mitchells," adds singer-songwriter Alex Lahey of her inclusion on the soundtrack.
Newsletter
Enter your e-mail address to receive weekly soundtrack and film score news: