WaterTower Music Announces 'The White Lotus' Soundtrack
JULY 12, 2021 | Submitted by WaterTower Music / Soundtrack.Net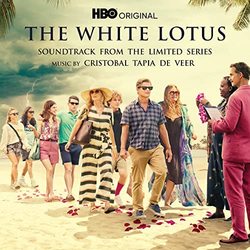 WaterTower Music has announced today's release of composer Cristobal Tapia de Veer's The White Lotus (Soundtrack From The HBO Original Limited Series), which features music from the new six-episode HBO limited series The White Lotus, a social satire set at an exclusive Hawaiian resort, and follows the vacations of various hotel guests over the span of a week as they relax and rejuvenate in paradise. With each passing day at The White Lotus, a darker complexity emerges in the picture-perfect travelers, the hotel's cheerful employees, and the idyllic locale itself.
The show premiered last night, July 11.
De Veer, who has been called a "musical genius" by Paste Magazine, has created a robust 28-track score that The Hollywood Reporter called "spectacularly percussive and primal…" that "takes hold and doesn't let go" of viewers. He described working on the White Lotus soundtrack: Mike White asked me for a sound that is 'bubbling' under the characters, as if something was about to pop up and burst at any moment. We spoke about a mysterious Hawaiian Hitchcock type of sound. I ended up screaming like a monkey into native flutes and bashing on tribal percussions with human bones, while things like charangos and soulful choirs completed the sound of the score, evacuating the full range of the characters, from the most brutal and chaotic instincts to moments of true and simple honesty.
Newsletter
Enter your e-mail address to receive weekly soundtrack and film score news: