WaterTower Music Announces 'The Suicide Squad' Soundtracks
AUGUST 6, 2021 | Submitted by WaterTower Music / Soundtrack.Net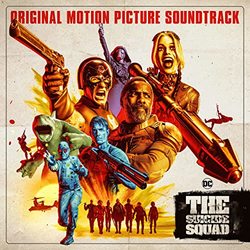 Troll Court / WaterTower Music today released two albums of music from The Suicide Squad, writer/director James Gunn's superhero action-adventure film which features a collection of the most degenerate delinquents in the DC lineup and is now in theatres and also available on HBO Max via the Ad-Free plan for 31 days. One album features songs heard in the film, including the new track "Rain (With Jesse Reyes)" by grandson. The other album is the film score by composer John Murphy, who took a decisively punk attitude in his approach to creating the music for outrageously visceral, wild ride that is The Suicide Squad.
James Gunn takes an extremely hands-on approach to infusing music into his films. Not only does he plan out what music he will use in post when writing his screenplays, he also utilizes playback of the selected songs on set, which allows the actors to actually step into his world on the other side of the edit, aiding with performances.
The Suicide Squad (Original Motion Picture Soundtrack), which Gunn calls his "curated mix tape," includes tunes from such classic artists as Johnny Cash, The Jim Carroll Band, Kansas, Louis Prima and Pixies, alongside a handful of today's rising stars like grandson and Jessie Reyez; in addition to their own songs, the latter two even perform the duet "Rain" which was written specifically for the film.
"A movie to me is two things," Gunn says, "Picture and sound. It's how you put those two things together that help tell a story and hopefully move an audience. So, music is incredibly important, and not only the songs I choose but also the music that I built with my composer, John Murphy, which is absolutely beautiful for this film. A lot of John's score was written beforehand and we play it on set, too, and that guides the scenes, the way the cameras are moving, and really informs the actors."
Murphy said of working on The Suicide Squad (Score From The Original Motion Picture Soundtrack) with Gunn, "From day one with James it was really creative and loads of fun. Nothing was off the table. He loves music. You can feel it in his movies. And we wanted this score to be different; sometimes raw, sometimes epic, sometimes unexpected - but always with attitude. I've heard people say that a good score is one that you don't notice. I think that's bollocks. We wanted a score that would be noticed!"
Murphy and Gunn were never going to go with a typical superhero movie score, so Murphy, who started in a punk band, picked up his guitar, plugged it into a Vox AC15, and began writing guitar riffs as down and dirty as the Squad themselves. "Because," explained Murphy, who plays all of the guitars on the soundtrack, "I write differently with a guitar. Emotionally, I'm starting from a different place. I love writing on piano, but with guitar, I can smash out different rhythms, walk around the room, keep turning the amp up. I can have a beer."
As the film's story (and music) gradually progresses from dirty guitars and kickass drums to more epic, orchestral pieces, instead of switching to piano to compose, Murphy continued to write with his guitars and pedals. He then built the orchestral action tracks from those raw guitar ideas. This way he could keep the same "punk" feeling he established early in the score while making his entire orchestra rock out with him. Murphy explained, "When we recorded the orchestra, I loved hearing all these blaring brass themes and soaring violins that started out as fuzz guitar riffs. And timpani riffs that, in my head, were really drum fills. The orchestra killed it!"
Much like the Suicide Squad themselves, the score does become gradually bigger and more heroic, but it gets there in its own unique way.
"James trusted me to go with my gut; and I trusted him to mean it," the composer concluded. "So The Suicide Squad score was a collaboration from beginning to end. And probably the most fun I've ever had on a movie!"
Newsletter
Enter your e-mail address to receive weekly soundtrack and film score news: