eOne Announces 'My Little Pony: A New Generation' Soundtrack
SEPTEMBER 24, 2021 | Submitted by Entertainment One / Soundtrack.Net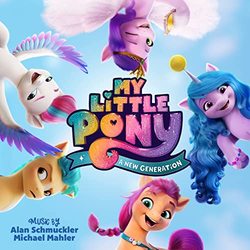 Today, eOne releases the soundtrack for My Little Pony: A New Generation. The soundtrack features 7 original, new songs with performances by Vanessa Hudgens ("Sunny"), Kimiko Glenn ("Izzy"), James Marsden ("Hitch"), and Sofia Carson ("Pipp"), along with Johnny Orlando and Callie Twisselman. My Little Pony: A New Generation soundtrack is available now wherever music is streamed and sold digitally. The film also releases globally today on Netflix.
The soundtrack was executive produced by veteran musician, arranger and label chief Ron Fair (Christina Aguilera, Keyshia Cole, Lady Gaga, Fergie, etc) and features four songs written by composers and lyricists Alan Schmuckler and Michael Mahler, including "Gonna Be My Day," "Fit Right In," "Danger Danger," and "I'm Looking Out For You."
Fair says, "The songs and music from My Little Pony are a labor of love from an incredibly talented group of creators - composer Heitor Pereira, songwriters Alan Schmuckler, Michael Mahler, Jenna Andrews, Bryan "Frequency" Fryzel and the Parisi Brothers. The production of the music took us from Nashville to New York to Chicago to Los Angeles to London. Overseeing, supervising and producing the music for My Little Pony World was one of the best projects of my career. "
"Glowin' Up," was written by Jenna Andrews (co-writer of the biggest song of the year, BTS' "Butter"), and produced by Fair, with vocals by Sofia Carson.
Andrews says, "I of course always loved 'My Little Pony' growing up and it was a dream to be able to work on 'Glowing up.' I am so grateful to Ron Fair for asking me to take part, and of course Sofia Carson for bringing the song to life!"
Newsletter
Enter your e-mail address to receive weekly soundtrack and film score news: