Hollywood Records Announces 'Ron's Gone Wrong' Soundtrack Album
OCTOBER 15, 2021 | Submitted by Disney Music / Soundtrack.Net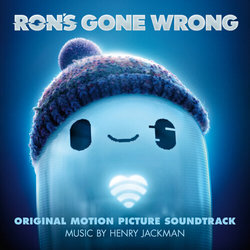 The Ron's Gone Wrong Original Motion Picture Soundtrack album is available today from Hollywood Records. The soundtrack features two end-title track songs: the feel-good single "Sunshine" by Liam Payne and the upbeat "New Friends" by Glass Animals frontman Dave Baley as well as score by Henry Jackman.

Ron's Gone Wrong, from 20th Century Studios and Locksmith Animation, opens in U.S. theaters nationwide on October 22.
Composer Henry Jackman's role in the filmmaking process was a very collaborative one. "I absolutely loved working with Henry," says co-director/co-writer/executive producer Sarah Smith. "He so understood the ideas and the emotions of the movie, and when you talk to him about connections in the story, he instantly sees how to weave in themes and sounds to support that. I mean really instantly—he starts playing you new score on the spot!"
Smith continues, "He came in with great ideas for digital sounds he often uses, to support the B*Bot story, but I asked him for both a classic 'high school movie' vibe and the orchestral scale and emotion of E.T. on top! Henry loves an unreasonable challenge, and he absolutely smashed it. Most important of all, as I watch scenes at the end of the film carried on a wave of his music, I just feel his heart and soul poured into the emotions of the story. It's a wonderful score."
Newsletter
Enter your e-mail address to receive weekly soundtrack and film score news: