'The Witcher' Season 2 Soundtrack Album Released
DECEMBER 17, 2021 | Submitted by Sony Masterworks / Soundtrack.Net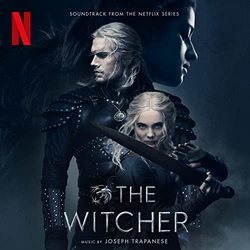 Milan Records today releases The Witcher: Season 2 (Soundtrack from the Netflix Original Series), an album of music from the second season of Netflix's epic fantasy series by composer Joseph Trapanese. Available everywhere now, the album features an original score by Trapanese as well as three additional vocal tracks performed by actor Joey Batey, who plays the role of Jaskier in the show and is the voice behind Season 1's chart-topping, viral hit song "Toss A Coin To Your Witcher." The soundtrack follows the massive success of the Season 1 Soundtrack, which has amassed nearly 300 million global album streams since its release. In addition to today's digital release, the album is set to be released in both CD and vinyl formats in 2022, with the CD arriving February 25, 2022 and the vinyl arriving as a 2-LP gatefold set on July 29, 2022.The second season of The Witcher debuts on Netflix today.
Of the soundtrack, composer Joseph Trapanese says, "I'm thrilled to be sharing our score and songs for Season 2 of The Witcher with you today. Lauren Schmidt Hissrich, Steve Gaub, Kelly Luegenbiehl, and the entire team at Netflix were incredibly generous with their time and guidance, introducing me to the world they've built based on Andrzej Sapkowski's The Witcher while also inviting me to share my own interpretation and musical language. It was especially rewarding to work with Joey Batey, whose representation and understanding of Jaskier became a key part of the songwriting process, with Joey himself co-writing two of the songs alongside me and the screenwriters. I couldn't be more excited or proud to share this music with you, and I'm grateful to the entire Witcher team and Netflix for supporting our work through all the challenges of the past two years."
Of his inclusion on the soundtrack's vocal tracks, actor Joey Batey adds, "Jaskier is stepping away from the catchy tunes that made his name in the Continent and is now using his songwriting talent to explore his own emotions and his own story, which was really challenging and really fun to do. Working with Joe [Trapanese] has been eye-opening. He is incredibly talented and I'm very lucky to have been involved."
Newsletter
Enter your e-mail address to receive weekly soundtrack and film score news: