'Peacemaker' Soundtrack Album Released
FEBRUARY 18, 2022 | Submitted by White Bear PR / Soundtrack.Net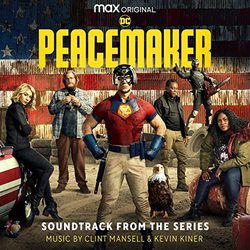 Today, Troll Court/ Watertower Music have released the soundtrack to the popular HBO Max series Peacemaker, which explores the continuing story of the character that John Cena reprises in the aftermath of executive producer James Gunn's 2021 film The Suicide Squad – a compellingly vainglorious man who believes in peace at any cost, no matter how many people he has to kill to get it!
The Peacemaker (Soundtrack from the HBO Max Original Series) features the music of two award-winning composers: Clint Mansell and Kevin Kiner. Golden Globe and Grammy-nominated film composer Clint Mansell has written scores for dozens of films (both shorts and features), TV series, and video games, and has collaborated extensively with filmmaker Darren Aronofsky. Annie Award-winning composer Kevin Kiner has been honored with multiple Emmy and other Annie Nominations, and won 13 BMI Film & TV Awards, making him one of the most versatile and sought-after composers in Hollywood. Over more than a decade, working with George Lucas and Dave Filoni, Kiner also scored all seven seasons of Star Wars: The Clone Wars.
The composers, who also work together on another HBO Max DC title, Doom Patrol, jointly commented on their work on the Peacemaker soundtrack. "Peacemaker taught us that there's no wrong time to rock. Tapping into the heart of 80's hair metal made it so that the score is simultaneously earnest and ridiculous, stylized and unhinged, uncool and yet transcendantly cool. It's also unabashedly melodic with an enthusiasm and sincerity we too were infected with when we immersed ourselves in the mix tapes James Gunn sent us.
The soundtrack also includes 2 songs: "Home Sweet Home (Piano Version)" a version of the 80's classic performed on piano by John Cena as seen in Peacemaker, and "Pumped Up Kicks (feat. Ralph Saenz)" by John Murphy, which also appeared on the show.
Newsletter
Enter your e-mail address to receive weekly soundtrack and film score news: