Milan Records Announces 'Thirteen Lives' Soundtrack
AUGUST 5, 2022 | Submitted by Sony Masterworks / Soundtrack.Net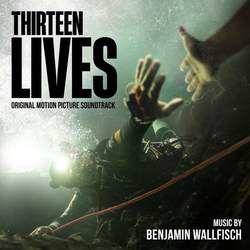 Milan Records is excited to announce the release of the Thirteen Lives (Amazon Original Motion Picture Soundtrack) by composer Benjamin Wallfisch. This 15-track album is available today, August 5, on all major digital platforms. The film is available to stream now exclusively on Prime Video in more than 240 countries and territories worldwide.
Wallfisch spent three months working almost daily with director Ron Howard. Some of the finest classical and folk musicians in Thailand were featured in the score, but Wallfisch also hired cello and piano soloists from the UK, as a way to bring two musical cultures together in the spirit of international collaboration that was so essential to the rescue effort.
The score is also at times very experimental, manipulating instruments to make them sound as if they are being warped under water, and with the percussion of the ticking clock being made from samples of the scraping, tapping, and air escape from oxygen canisters, alongside many other unusual score concepts.
Newsletter
Enter your e-mail address to receive weekly soundtrack and film score news: