Disney Music Announces 'See How They Run' Soundtrack
SEPTEMBER 16, 2022 | Submitted by Disney Music / Soundtrack.Net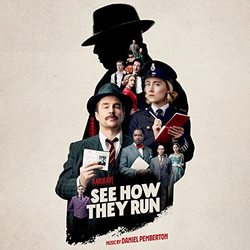 Hollywood Records has released the See How They Run (Original Motion Picture Soundtrack). Featuring original music by Emmy Award-winning and Academy Award-nominated composer Daniel Pemberton, the soundtrack aptly captures the spirit of 1950s London where the comedy mystery of See How They Run unfolds.
Looking to compose an 'unexpected and unusual' score, Pemberton pulled out all the stops in creating the sounds of the era without being too literal. Incorporated into the 70-piece orchestra are vintage banjoes, interesting drum and rhythmic textures, and even his water bottle and a metal stick, to which Pemberton notes, "I like doing things where you can pull really lo-fi ideas like that alongside incredibly complex orchestrations." Also featured in the score is the iconic "Mrs. Mills piano" housed at Abbey Road Studios and famously known as the piano in the Beatles' "Lady Madonna," "Penny Lane" and "With A Little Help From My Friends" to bring in a vaudeville, honky tonk sound.
See How They Run was directed by Tom George and written by Mark Chappell. It notably stars Sam Rockwell, Saoirse Ronan, Adrien Brody, David Oyelowo, and Ruth Wilson. It also marks the first collaboration between George and Pemberton.
Newsletter
Enter your e-mail address to receive weekly soundtrack and film score news: