Milan Records Announces 'Copenhagen Cowboy' Soundtrack
JANUARY 6, 2023 | Submitted by Sony Masterworks / Soundtrack.Net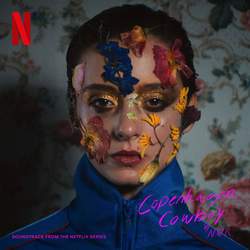 Milan Records today releases Copenhagen Cowboy (Soundtrack from the Netflix Series), the music album from Netflix's new series created by Nicolas Winding Refn. Available everywhere now, the album features music written by Julian Winding, Peter Peter and Cliff Martinez for the noir-thriller set in Refn's native Copenhagen. All frequent collaborators of Refn's, the composing trio have infused the series with a synth-heavy, electronic soundscape befitting the neon-drenched journey through Denmark's dark underworld. Originally premiering at the Venice Film Festival, Copenhagen Cowboy is available to watch on Netflix now.
Of the soundtrack, Copenhagen Cowboy director, writer and producer Nicolas Winding Refn says, "With Copenhagen Cowboy, I was able to revisit my past as I move toward my future, bringing together three very singular voices—Peter Peter, Cliff Martinez and spicing it up with Julian Winding. It's a real trip that will give everyone hot thrills and warm chills."
"Going into Copenhagen Cowboy, I knew immediately that I wanted to do my take on classic horror – the amazing themes and melodies I've grown up with," adds composer Julian Winding. "It was important to me, like it probably was for, say, Fabio Frizzi, that there was a melody. There's nothing like tapping your foot and humming along to some poor soul getting brutally murdered in spectacular fashion onscreen."
Newsletter
Enter your e-mail address to receive weekly soundtrack and film score news: