WaterTower Music Announces 'Shazam! Fury of the Gods' Soundtrack
FEBRUARY 24, 2023 | Submitted by WaterTower Music / Soundtrack.Net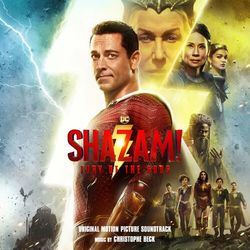 Watertower Music is extremely excited to announce today's release of award-winning composer Christophe Beck's Shazam! Fury of the Gods (Main Title Theme). The enthralling new theme is the first music to be made available from director David F. Sandberg's Shazam! Fury of the Gods, which continues the story of teenage Billy Batson who, upon reciting the magic word "SHAZAM!," is transformed into his adult Super Hero alter ego, Shazam.
Prolific Emmy Award-winning and Grammy-nominated composer Christophe Beck brought his considerable musical capabilities to Shazam! Fury of the Gods. This exciting Shazam! Fury Of The Gods (Main Title Theme) - the first release from the upcoming soundtrack, which is scheduled for release in full on March 10, offers fans a wonderful first look into the musical landscape he created.
Beck described his work on the film: "Being a fan of the first Shazam! I was thrilled when director David Sandberg invited me to work on Shazam! Fury of the Gods. There's a beautiful innocence to these characters alongside their heroism, and a real feeling of family in their bond, and the opportunity to capture all that in the score really lit me up. I wrote a big, bold orchestral score," the composer further elaborated, "in the grand tradition of classic superhero movies, with a brand new main theme that works as a theme for both Billy Batson and the team as a whole. I'm proud and excited to share this film and its music with the world!"
Newsletter
Enter your e-mail address to receive weekly soundtrack and film score news: