Milan Records Announces Soundtrack Album for HBO's 'The Last of Us'
FEBRUARY 27, 2023 | Submitted by Sony Masterworks / Soundtrack.Net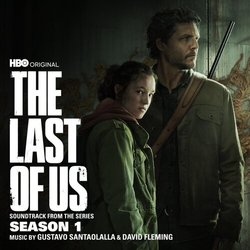 Milan Records today releases The Last of Us (Soundtrack from the HBO Original Series) by 2-time Academy Award winner Gustavo Santaolalla and David Fleming. Available everywhere now, the album features score music written by the duo for the first season of HBO's new drama based on the critically acclaimed video game of the same name. Having scored both the original video game and its 2020 sequel, Gustavo Santaolalla builds on his previous work, expanding the intimate, guitar-driven soundscape to deliver a score as emotionally laden as the story itself. Starring Pedro Pascal and Bella Ramsey, The Last of Us airs on Sunday nights at 9PM ET/PT on HBO and is available to stream on HBO Max.
Of the soundtrack, composer Gustavo Santaolalla says, "Creating the music for the HBO series based on the video game The Last Of Us was, in a way, an expansion of what we have developed and recorded for the first installment of the game. Once again, the emotion at the heart of the score this time driven by the vision of Neil Druckmann and Craig Mazin and by the power of this amazing story."
"I'm so thrilled to be releasing our soundtrack for this newest chapter in the story of The Last of Us," adds composer David Fleming. "Working alongside Gustavo has been a true honor. His music for this series is iconic, and it was tremendous fun to play within that sonic universe, while adding some new layers of madness to fit Craig and Neil's incredible vision for this show. Even at its most aggressive, I wanted the music to feel derived from the real world - bowed steel, cracking wood - these are sounds for a civilization that has rusted and warped. I hope the fans have as much fun diving into this world as I have."
Newsletter
Enter your e-mail address to receive weekly soundtrack and film score news: