Soundtrack Information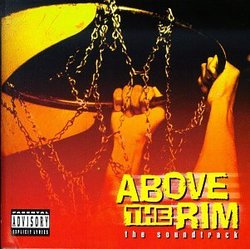 Above the Rim - Explicit
Release Date: March 22, 1994
Formats: CD, Digital, Cassette, Vinyl
Music From
Purchase Soundtrack
Track Listing
1.
Anything (SWV)
2.
Old Time's Sake (Sweet Sable)
3.
Part Time Lover (H-Town)
4.
Big Pimpin' (The Dog Pound Gangstas)
5.
Don't Mean To Turn You On (2nd II None)
6.
Doggie Style (D.J. Rogers)
7.
Regulate (Nate Dog, Warren G.)
8.
Pour Out A Little Liquor (Thug Life)
9.
Gonna Give It To Ya (Jewell, Aaron Hall)
10.
Afro Puffs (The Lady Of Rage)
11.
Jus So Ya No (CPO-Boss Hog)
12.
Hoochies Need Love Too (Paradise)
13.
I'm Still In Love With You (Al B. Sure!)
14.
Crack 'Em (O.F.T.B.)
15.
U Bring Da Dog Out (Rhythm & Knowledge)
16.
Blowed Away (B Rezell)
17.
It's Not Deep Enough (Jewell)
18.
Dogg Pound 4 Life (Tha Dogg Pound Gangstas)
Track lengths not available for this album. If you have track length/time information for this album, please e-mail it to us at mail@soundtrack.net and we will add it to the database.
Missing Information?
If any information appears to be missing from this page, contact us and let us know!