Soundtrack Information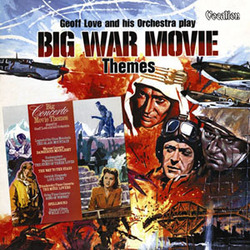 Big War Movie Themes
Dutton Vocalion (CDLK 4468)
Release Date: May 15, 2012
Performed by
Geoff Love and his Orchestra
Format: CD
Purchase Soundtrack
Track Listing
1.
BIG WAR MOVIE THEMES: Colonel Bogey (Alford) excerpt from The River Kwai March (Arnold) from the film 'The Bridge on the River Kwai'
2.
Lawrence of Arabia (Jarre)
3.
The Guns of Navarone (Tiomkin; Webster)
4.
Battle of Britain (Goodwin)
5.
The Longest Day (Anka)
6.
Where Eagles Dare (Goodwin)
7.
633 Squadron (Goodwin)
8.
The Dam Busters (Coates)
9.
The Great Escape March (Bernstein; Stillman)
10.
The Green Berets (Rózsa)
11.
Is Paris Burning? (Jarre)
12.
Reach for the Sky (Addison)
13.
BIG CONCERTO MOVIE THEMES: Warsaw Concerto (Addinsell) from 'Dangerous Moonlight'
14.
Rhapsody on a Theme of Paganini op.43 (Rachmaninov) from 'The Story of Three Loves'
15.
Spellbound Concerto (Rózsa) from 'Spellbound'
16.
Theme from Concerto in B flat minor (Tchaikovsky arr Love) from 'The Music Lovers'
17.
Cornish Rhapsody (Bath) from 'Love Story'
18.
The Dream of Olwen (Williams) from 'While I Live'
19.
The Legend of the Glass Mountain (Rota) from 'The Glass Mountain'
20.
The Way to the Stars (Brodszky)
21.
Theme from Grieg's Piano Concerto (Grieg arr Love) from 'Song of Norway'
Track lengths not available for this album. If you have track length/time information for this album, please e-mail it to us at mail@soundtrack.net and we will add it to the database.
Related Albums
The Great EscapeLimited Edition
Varese Sarabande Club (VCL 0804 1029)

Released: 2004

Format: CD (88 min)

Love StoryGeffen Records

Released: 1970

Formats: CD, Digital, Vinyl (30 min)

Battle of BritainVarese Sarabande (302 066 578 2)

Released: Unknown

Format: CD (59 min)

The Great EscapeVarese Sarabande (302 066 582 2)

Released: Unknown

Format: CD (32 min)
Missing Information?
If any information appears to be missing from this page, contact us and let us know!