Soundtrack Information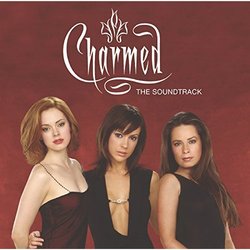 Charmed
Release Date: September 23, 2003
Formats: CD, Digital
Purchase Soundtrack
Track Listing
| | | |
| --- | --- | --- |
| 1. | "Hot" - Smash Mouth | 2:31 |
| 2. | "Danger" - Third Eye Blind | 3:11 |
| 3. | "Strict Machine" - Goldfrapp | 3:50 |
| 4. | "Maybe Tomorrow" - Stereophonics | 4:33 |
| 5. | "Rinse" - Vanessa Carlton | 4:29 |
| 6. | "I Can't Take It" - Andy Stochansky | 2:50 |
| 7. | "Worn Me Down" - Rachael Yamagata | 4:31 |
| 8. | "Do You Realize" - Flaming Lips | 3:31 |
| 9. | Balligomingo (featuring Lucy Woodward) | 3:52 |
| 10. | "Rainbow in the Sky" - Ziggy Marley | 3:06 |
| 11. | "How Soon Is Now" - Love Spit Love | 4:25 |
| | Total Album Time: | 40:49 |
Review: Charmed
by Justus Pendleton
December 13, 2004
3 / 5 Stars
Few television soundtracks have much appeal outside of fans of the show. The soundtrack for the WB's "Charmed" is no different. It isn't that the songs are weak it is just that they sound sooooo...WB. Through the first four songs I thought perhaps I had slipped in "Smallville"'s The Talon soundtrack by accident. One ought be forgiven for that mistake: Smash Mouth is track 1 for "Charmed" and also appeared in episode 8 of "Smallville"; Third Eye Blind is track 2 for "Charmed" and show up episodes 3 and 7 of "Smallville"; the real tricky one are the Stereophonics who contribute "Maybe Tomorrow" to the "Charmed" soundtrack and "Maybe" to "Smallville". If you've seen either of those shows, or, really, anything at all on the WB then you've can guess what most of the music is like.
Before you even start listening you notice that the CD cover features the new cast. The title is simply "Charmed" but a more accurate one would be "Charmed: Season Six": don't expect a best-of compilation from previous seasons. A lot of fans will have to get past their initial disappointment: "But what about the song when Phoebe did X? Or when Piper did Y?". This was exacerbated by the timing of the CD's release: season 6 had just started airing so there was no emotional connection with the songs. But let's be honest here, this is the only "Charmed" CD out there, fans have waited six long years, and the only other way to get a copy of the show's theme song is to beat up your little sister and take her copy of the soundtrack to 1996's The Craft. Not that having possession of The Craft soundtrack is something you're going to admit at the water cooler at work, either.
What you get is a handful of tracks of pretty decent tracks that rise above a coterie of bland, commercial pop-rock from Third Eye Blind, Stereophonics, and Andy Stochansky. Smash Mouth starts the disc off with solid hooks and unfortunate lyrics in "Hot". ("Hey, so you want to play. You'll see my game's on fire but we don't play the same game." You're really not supposed to pay attention to them anyway.) Goldfrapp's "Danger" has heavy synth beat and subdued vocals that are a nice respite from the majority of the songs on the disc. You'd think when they have a whole season of music to cherry pick from they could come up with a little more variety than this. You can't help but wonder how many of these artists are on WB labels. I guess that's synergy for you.
While there is a strong feeling of sameness to many of the tracks, the editor of the disc have tried to introduce variety by breaking up those tracks. This works, for the most part, but is uneven at times. In between Third Eye Blind and Stereophonics is the Goldfrapp track. In between Stereophonics and Andy Stochansky is Vanessa Carlton's "Rise", which is a lot like most other female folk songs, except with an electric guitar. Sort of Alanis Morissette lite. It's not bad but it works better on screen, trust me.
The real strength of the disc is the second half with offerings from Rachael Yamagata, The Flaming Lips, and Ziggy Marley(!!) being especially strong. Rachael Yamagata has a bit of jazz singer's smoky voice that doesn't perfectly suit the tempo on "Worn Me Down"—it sounds like a jazz tune that's gone Pop. "Worn me down, to my knees, I did anything to please." Lyrics like that don't really lend themselves to the fast tempo they're set to. There's a promise of some talent here, even if it isn't entirely realized in this song. The Flaming Lips' contribution comes from their "Yoshimi Battles the Pink Robots" CD. It isn't new but it is still a good song. This, along with Ziggy Marley's "Rainbow in the Sky" - a reggae tracked backed by members of the Red Hot Chili Peppers - are the crown jewels of the "Charmed" soundtrack (sorry Love Spit Love). They give us a glimpse of What Could Have Been that makes it hard not to negatively reevaluate the more pedestrian offerings on the other tracks. The real magic of a mix tape isn't playing the same thing over and over again, it is playing music that is markedly different yet still hangs together somehow. The Charmed soundtrack makes a tentative, half-hearted step in that direction but ultimately keeps both feet firmly on comfortable, commercial soil with the kind of songs you'll hear, and promptly forget, on any run-of-the-mill "Variety" radio station. But I'm not a girl aged 9-19, which is really the demographic being targeted here.
Missing Information?
If any information appears to be missing from this page, contact us and let us know!