Soundtrack Information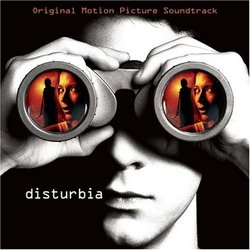 Disturbia
Lakeshore Records (LKA 339112)
Release Date: April 3, 2007
Formats: CD, Digital
Music From
Purchase Soundtrack
Track Listing
| | | |
| --- | --- | --- |
| 1. | "Always Love" - Nada Surf | 3:16 |
| 2. | "Don't Make Me Wait" - This World Fair | 3:47 |
| 3. | "One Man Wrecking Machine" - Guster | 4:13 |
| 4. | "Whoa Now" - louque | 4:02 |
| 5. | "Gangsta Boogie" - Love Stinks | 4:06 |
| 6. | "Next To You" - Buckcherry | 3:25 |
| 7. | "Because I Got High" - Afroman | 4:23 |
| 8. | "We Love Reggae" - Noiseshaper | 4:07 |
| 9. | "Dream" - Pricilla Ahn | 3:29 |
| 10. | "The Great American Napkin" - The Summer Skinny | 3:04 |
| 11. | "Lovin' You" - Minnie Riperton | 3:23 |
| 12. | "You'll Never Find Another Love Like Mine" - Lou Rawls | 4:25 |
| | Total Album Time: | 45:40 |
Review: Disturbia
by Matt Millstein
June 6, 2007
2.5 / 5 Stars
The song soundtrack to D.J. Caruso\'s recent suspense thriller Disturbia suffers the fate of many recent song soundtracks; it feels lackluster and thrown together. There\'s no flow, no common thread. It\'s like when your friend gives you a CD mix that is so eclectic that you can\'t get your head around; you find a few songs that you like and discard the rest. The Disturbia soundtrack is one of those confusing mixes. From the smooth soul sounds of Minnie Ripperton and Lou Rawls, to the college pop of Guster, to the whiskey drenched rock n\' roll of Buckcherry, and the space funk of Cee-Lo Green\'s Love Stink, this soundtrack is all over the map. The original song written for the film, "Don\'t Make Me Wait" by This Worlds Fair was co-written by the film\'s composer, Geoff Zanelli, and integrates the love theme from the film, but with a good album there needs to be some kind of focus or theme and a general flow from song to song, unfortunately there isn\'t one here.

I like maybe five songs on this soundtrack; three new and two old. Love Stink\'s "Gangsta Boogie" is an upbeat hip-hoppy groove laced with Cee-Lo Green\'s high-pitched falsetto croon. The song features Cee-Lo Green from Gnarls Barkley and Goodie Mob fame and Jack Splash from the funky West Coast band Plantlife. "Gangsta Boogie" will be a part of an upcoming collaborative album. Apparently the group is no longer called Love Stinks and is now going by the name, The Heart Attack. There\'s no telling how good this full length album will be, but all signs point towards the positive if this tune is any indication. It is a catchy tune and it will get into your head fast. Part of the "Gangsta Boogie" samples the riff from the seminal Buddy Miles tune "Them Changes". Another decent track is "Whoa Now" by Louque, some group I have never heard of from Louisiana. It is a catchy and funky song that to me sounds like George Michael crossed with Jack Johnson. There isn\'t a whole lot to this track, and the lyrics are kind of bland, but I like the slow, earthy groove. The other track I like is the dubbed out reggae tune "We Love Reggae" by the Austrian duo Noiseshaper. The song isn\'t phenomenal but it does have a nice chunky bassline, and if you like by-the-book rootsy dub, this one\'s for you. I also enjoyed the two classic soul cuts at the end of the album; "Loving You" by Minnie Ripperton and "You\'ll Never Find Another Love Like Mine" by Lou Rawls. These cuts are iconic, if somewhat cheesy, exemplifying the smooth soul of the mid-seventies. The easily recognizable quality of these songs helps make this soundtrack bearable.
The rest of the music on this album doesn\'t really do it for me. Afroman\'s "Because I Got High" is kind of funny the first time around, but after the novelty wears off there just isn\'t much there. This is basically the theme for the entire Disturbia soundtrack: once you listen to it once, you don\'t need much more. There\'s definitely something for everyone on this soundtrack; reggae, rock, hip-hop, soul/r+b and some numbers in between, but there\'s no cohesion. To me, most of it is forgettable.
Missing Information?
If any information appears to be missing from this page, contact us and let us know!