Movie Information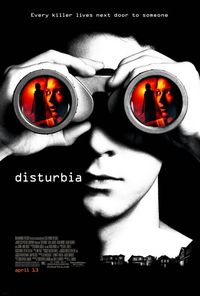 Disturbia
Released: April 13, 2007
Movie Purchasing Links
Review: Disturbia
by Dan Goldwasser
April 5, 2007
3.5 / 5 Stars
A year after his father died in a car accident that he blames himself for, Kale (Shia LeBouf) strikes out at his Spanish teacher in school, and is sentenced to house-arrest for the duration of the summer. He\'s going crazy from boredom, and takes up observing (or snooping on) the neighborhood from his second floor bedroom. Then the hot new girl Ashley (Sarah Roemer) moves in next door, and he\'s instantly smitten. But he\'s not just a perv with binoculars, as he and Ashley bond over spying on another neighbor - the creepy Mr. Turner (David Morse). A series of coincidences have convinced them that he is actually a serial killer - but can they prove it before he strikes again?
What makes Disturbia work, even with the relatively predictable storyline, is that it has interesting characters that keep us engaged. The first half is pretty much a teen dramedy involving Kale\'s dysfunction after his father\'s death, and how he tries to deal with the equivalent of solitary confinement, stuck at home. The love story actually works, and you can feel depth in the characters. Then there\'s the second half, where the film turns into a very tight thriller. There were certain sequences which - I will admit - had my heart racing. Sure the story was telegraphed a mile away, but it was still effective and well made. Director D.J. Caruso had previously done the interesting film Taking Lives, and one of the writers wrote Red Eye, another successful thriller.
The music, by Geoff Zanelli, is thematic and orchestral and has a nice evolution as it grows from a teen romance score into a taut thriller with melodic motifs and all. There\'s even a love song based on his main love theme, and it ties it all nicely together. You might not think it from the trailers, but Disturbia was a very enjoyable movie, and one that will satisfy your craving for thrills, chills and spills!
News &amp Articles
Missing Information?
If any information appears to be missing from this page, contact us and let us know!