Soundtrack Information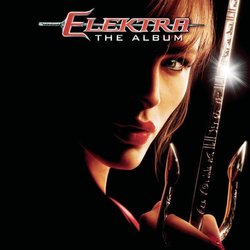 Elektra
Wind-up Records (60150-13107-2)
Release Date: 2005
Formats: CD, Digital
Music From
Purchase Soundtrack
Track Listing
| | | |
| --- | --- | --- |
| 1. | "Never There (She Stabs)" - Strata | 3:44 |
| 2. | "Hey Kids" - JET | 2:58 |
| 3. | "Everyone Is Wrong" - The Donnas | 3:28 |
| 4. | "Sooner Or Later" - Switchfoot | 4:09 |
| 5. | "Thousand Mile Wish (Elektra Mix)" - Finger Eleven | 4:00 |
| 6. | "Wonder" - Megan McCauley | 3:53 |
| 7. | "Your Own Disaster" - Taking Back Sunday | 5:42 |
| 8. | "Breathe No More" - Evanescence | 3:48 |
| 9. | "Photograph" - 12 Stones | 3:58 |
| 10. | "Save Me" - Alter Bridge | 3:27 |
| 11. | "Beautiful" - The Dreaming | 3:03 |
| 12. | "Hollow" - Submersed | 4:04 |
| 13. | "Angels With Even Filthier Souls" - Hawthorne Heights | 2:55 |
| 14. | "5 Years" - The Twenty Twos | 3:52 |
| 15. | "In The Light" - Full Blown Rose | 4:13 |
| | Total Album Time: | 57:14 |
Review: Elektra (songs)
by Mike Brennan
February 10, 2005
2 / 5 Stars
Daredevil produced one of the few "true" rock album soundtracks, as more than half the songs on the CD actually appeared in the film, showcasing the new band Evanescence. Amy Lee, with her dark music and powerful voice, became the voice of Elektra's character with "My Immortal" accompanying her father's funeral and "Bring Me To Life" backing her training to confront her father's murderer. While another Evanescence song appears on the Elektra soundtrack, it was not used in the film, adding more space to the film which was distancing itself from Daredevil as a sequel. A few artists on this album are the same as Daredevil, but few of the songs are unique to the film and lack any theme.

That having been said, the collection of rock songs is fairly good. Besides Evanescence, there is a strong female vocalist presence on tracks such as "Wonder" by Megan McCauley and "Into the Light" by Full Blown Rose. Fans of the Daredevil, Punisher, and Spider-Man 2 song soundtracks will find something to like here. However, anything related to the film Elektra ends with the cover of the CD, as none of these songs appeared in the film.
Missing Information?
If any information appears to be missing from this page, contact us and let us know!