Soundtrack Information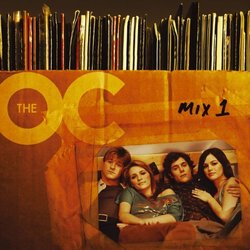 Music from The OC: Mix 1
Warner Bros. Records (48685-2)
Release Date: March 30, 2004
Format: CD
Purchase Soundtrack
Track Listing
| | | |
| --- | --- | --- |
| 1. | "Paint the Silence" - South | 5:51 |
| 2. | "Just a Ride" - JEM | 3:18 |
| 3. | "Honey and the Moon" - Joseph Arthur | 4:43 |
| 4. | "The Way We Get By" - Spoon | 2:40 |
| 5. | "Move On" - Jet | 4:20 |
| 6. | "How Good It Can Be" - The 88 | 3:51 |
| 7. | "Caught By The River" - Doves | 5:55 |
| 8. | "Rain City" - Turin Brakes | 4:03 |
| 9. | "We USed To Be Friends" - The Dandy Warhols | 3:19 |
| 10. | "Dice" - Finley Quaye + William Orbit | 4:14 |
| 11. | "Orange Sky" - Alexi Murdoch | 6:18 |
| 12. | "California" - Phantom Planet | 3:15 |
| | Total Album Time: | 51:47 |
Review: Music from The OC: Mix 1
by SoundtrackNet Staff (SF)
July 13, 2004
4 / 5 Stars
My guess is that The OC was originally intended for the pre-high school graduation crowd. I wonder, then, how pleased creators Josh Schwartz and McG are that us 18-34 folks are hooked, too. (My source on that: myself, friends, co-workers, and TelevisionWithoutPity.) Musically, you can't go wrong with a line-up that includes Jet, The Dandy Warhols, and William Orbit (even if he is relegated to "+ William Orbit"), right?
Right.
This soundtrack feels like something the DJs over at KCRW would put together. It's hip, but not hip like when your dad slips "dude" into his everyday speech; it's current without feeling like a product of Corporate Conglomerate Radio; and it lends itself well to driving (even into Orange County - if you must), working, and lounging. (It doesn't slice, dice, or julienne, however.)
Most surprising about Mix 1 is that there's not a single "skip it!" track in the bunch. Nor does the CD feel linear. The way the songs are organized may very well be the result of the music supervisor throwing the tracks in a play list, hitting random, and running with it. (Of course, it's also possible that the track listing was carefully organized as part of some sinister, profit-driven plan, but let's pretend.) Each song has its own little narrative and collectively they manage, in a non-linear fashion, to evoke that Wednesday night, Orange County-except-that's-really-Hermosa-Beach world we've all been sucked into over the last year.
On second thought, perhaps you'll skip Phantom Planet's "California." After hearing it once a week for an entire season, I can hardly blame you. Thankfully, someone had the foresight to put it at the end of the CD, so at least you're not assaulted the second you hit "Play."
Of the ensemble cast of artists, newest to me are: Jem, Joseph Arthur, and Turin Brakes. Admit it, when you first heard of/saw Jem's name your thoughts movie-flashbacked to the '80s cartoon. (Misfits!) Well, mine did anyway; happily, the singer Jem sounds nothing like the cartoon. "Just a Ride" is very chic: girl songwriter, easy vocals, toe-tapping bass line.
Arthur's "Honey and the Moon" brings up all the '60s and '70s folk music my grown-up relatives played so much when I was just a wee thing. It would have fit well in The Graduate (not that "Sound of Silence" would have been used any less with Arthur's addition, heh).
I like melancholy songs more than perhaps I should; "Rain City" is right up my alley. This may be the studio version, but it could have easily been recorded in a small, smoky (well, not in California) club on any given Saturday night. Four minutes of spare vocals and modest melodies are a little treat between the Doves' driving "River" and the Dandy Warhols' high-energy "Friends."
If you watch The OC, you'll enjoy Mix 1. If you don't watch The OC, you'll probably enjoy Mix 1. At the very least, it's a decent compendium of good, modern rock. Can't wait to see what they've got in store for the next 2 planned mixes.
Missing Information?
If any information appears to be missing from this page, contact us and let us know!