Soundtrack Information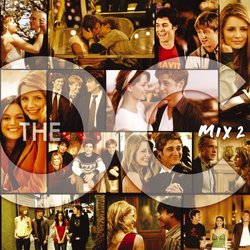 Music from The OC: Mix 2
Warner Bros. Records (48695-2)
Release Date: October 26, 2004
Formats: CD, Digital
Purchase Soundtrack
Track Listing
| | | |
| --- | --- | --- |
| 1. | "Saturday Morning" - Eels | 2:53 |
| 2. | "Hello Sunshine" - Super Furry Animals | 2:49 |
| 3. | "Smile Like You Mean It" - The Killers | 3:54 |
| 4. | "A Lack of Color" - Death Cab For Cutie | 3:36 |
| 5. | "Specialist" - Interpol | 6:39 |
| 6. | "Something Pretty" - Patrick Park | 3:12 |
| 7. | "You Got Me All Wrong" - dios malos | 3:11 |
| 8. | "If You Leave" - Nada Surf | 4:51 |
| 9. | "Big Sur" - The Thrills | 3:07 |
| 10. | "Little House of Savages" - The Walkmen | 3:08 |
| 11. | "Trouble Sleeping" - The Perishers | 4:43 |
| 12. | "So Sweet" - Johnathan Rice | 3:48 |
| 13. | "Popular Mechanics For Lovers" - Beulah | 3:02 |
| 14. | "Walnut Tree" - Keane | 3:37 |
| 15. | "Maybe I'm Amazed" - Jem | 4:44 |
| 16. | "Eastern Glow" - The Album Leaf | 5:47 |
| | Total Album Time: | 63:01 |
Review: Music from The OC: Mix 2
by SoundtrackNet Staff (SF)
January 24, 2005
3 / 5 Stars
After "The OC: Mix 1", I had pretty high expectations for "Mix 2." The good news: I'm not disappointed. The bad news: there are several songs I'd like to put on permanent skip. But let's focus on the positive, shall we?
If you've been looking for some rock music to sink your teeth into, The Killers' "Smile Like You Mean It" is what you want. The opening is all-'80s electric guitar, and I can see that it sounds cheesy in writing, but I assure you that it most certainly is not when coming out of speakers. "Smile Like You Mean It" is a good representation of the rest of The Killers' debut CD "Hot Fuss." Heavy on the guitar, catchy lyrics, and honesty, it's definitely one of the best CDs I've heard in a year or more.
"Something Pretty" has this lovely mixture of orchestral strings and bluegrass notes that somehow reminds me of Simon & Garfunkel. Patrick Park's voice is unadorned, straightforward. My favorite part of the song is the hook, "At the most I'm a glare,/ I'm the hopeless son who's hardly there./ I'm the open sign that's always busted./ I'm the friend you need, but can't be trusted." I like the echoing, live-show-ness about it. I want to give you a song-by-song, but with 16 tracks on the CD this review will turn into an essay and I'm allergic to essays now that I'm out of college, thanks.
And now, The Bad. I am incapable of leaving well enough alone. Nada Surf's cover of OMD's "If You Leave." I keep waiting for it to kick in. But let me let you in on a little secret: it never does. I know, right? Never. If you find Nada Surf's bass drum, will you return it? The single good thing I can say about Death Cab for Cutie's "A Lack of Color"? It shows up very early on the album, so it's over and done with pretty quickly. Maybe I'm just too old for all that angst.
Let's jump back to The Good. "Mix 2" is bookended by "Saturday Morning" from the Eels and The Album Leaf's "Eastern Glow." Bookends and both morning songs, but entirely and wonderfully different. A spring or summer morning definitely calls out for the Eels; it's short, sweet, to the point, and catchy as all hell. It's got me on the look out for Chocolate Frosted Sugar Bombs.
Huddled under blankets in front of a fire is where to find "Eastern Glow." Granted, it's not often you'll find yourself in real need of a fire place's warmth in Newport (okay, except maybe for this year—thanks for the cold and rain, El Nino!), but that's hardly the point. The strings and very mellow tempo gives the song a lullaby quality I didn't expect to find.
Once again, Josh Schwartz and music director Alexandra Patsavas turn in an engaging, well-rounded and relevant-to-its-source mix. So when do we get "Mix 3" already?!
Missing Information?
If any information appears to be missing from this page, contact us and let us know!