Soundtrack Information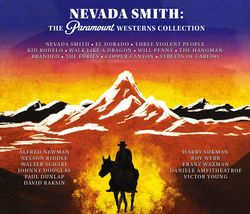 Nevada Smith: The Paramount Westerns Collection
Limited Edition of 1,000 Units
La-La Land Records (LLLCD 1502)
Release Date: December 3, 2019
Format: CD
Music From
Track Listing
Disc 1: Nevada Smith: The Paramount Westerns Collection
1.
NEVADA SMITH (Alfred Newman): Nevada Smith Main Title
2:31
2.
The Desperados Ride Off / Death and Desolation
4:12
3.
The Lonely Prairie
2:51
4.
The Next Morning
4:44
5.
Going West
3:35
6.
Neesa, the Indian Girl
4:32
7.
Mississippi River Boat
1:58
8.
Pilar, the Cajun Girl / Second Meeting
4:20
9.
Escape Through the Swamp
6:24
10.
Pilar's Death and Burial
4:39
11.
Eldorado Country / Eldorado Frontier
1:40
12.
The Mission Chapel / The Padre's Parable
3:46
13.
Fitch's Hideout
1:27
14.
The Gold Wagon
2:10
15.
Nevada Smith End Title
1:55
16.
EL DORADO (Nelson Riddle): El Dorado Main Title (George Alexander, vocal)
2:36
17.
Hasta Luego
1:03
18.
Luke's Life Lingers
0:46
19.
Come Get Your Boy / Ambush / Cole's Misery
2:03
20.
Hasta La Vista / San Miguel
1:26
21.
La Cantina
2:15
22.
Charlie's Demise / The First Stroke
1:23
23.
Ride, Boldly Ride
1:53
24.
The Night and the Stars
0:44
25.
Maria Informs / Outmaneuvered
3:36
26.
Message From Maudie / McLeod Catches Cole
1:06
27.
The Farewell
2:55
28.
Bugle Call / Shootout
1:24
29.
El Dorado Finale
0:51
30.
BONUS TRACKS: El Dorado Main Title (alternate) (John Gabriel, vocal)
2:35
31.
El Dorado – Main Title Theme
1:05
Disc Time:
78:25
Disc 2: Nevada Smith: The Paramount Westerns Collection
1.
THREE VIOLENT PEOPLE (Walter Scharf): Paramount Seal – Revised (Van Cleave) / Three Violent People Prelude
1:46
2.
Saunders Apologizes
4:35
3.
Here Comes the Bride / The Bedroom / My Wild and Reckless Heart (whistling)
1:46
4.
The Brothers Meet / Passion and Pastoral / Hoyt's Ranch
1:57
5.
Lorna Was Her Name
1:20
6.
For Services Rendered
2:57
7.
True Love?
1:13
8.
Stolen Horses / The Stampede (extended)
4:42
9.
The K.O. of Cinch / Vaya Con Dios
2:33
10.
Cinch's Showdown
3:32
11.
Three Violent People End Title
0:42
12.
BONUS TRACKS: Guitarioso
2:19
13.
My Wild and Reckless Heart (vocal) (Music by Walter Scharf, Lyrics by Bebe Blake)
2:36
14.
KID RODELO (Johnny Douglas): Kid Rodelo Main Title (Kid Rodelo Theme) / Guards
1:50
15.
Kid Rodelo Theme
1:28
16.
Escape
3:32
17.
Link's Death
1:18
18.
Real Gold
1:22
19.
Cholla
0:54
20.
Love Is Trouble (Tom Glazer)
1:05
21.
Riding / Buzzards & Coyotes*
3:10
22.
Kid & Indian
2:12
23.
Keep Moving / Transportation
2:38
24.
Indian Attack
1:37
25.
Kid Rodelo Finale (Love Is Trouble) (Tom Glazer)
1:17
26.
WALK LIKE A DRAGON† (Paul Dunlap): Paramount Seal
0:09
27.
Walk Like a Dragon (short version) (Composed and sung by Mel Tormé)
1:43
28.
Slave Market
1:38
29.
Traveling With a Pretty Purchase
1:09
30.
Cheng's Shame
2:21
31.
Linc Comes Home
1:13
32.
A Sacred Oath**
1:25
33.
Masters Becomes a Corpse** / A Teacher for Cheng
2:06
34.
Kim's Story / Linc Comes Home II
2:48
35.
The American Dress
1:23
36.
The Death of Deacon** / The Avengers
3:00
37.
Kim Pleads / Walk Like a Dragon Finale**
2:20
38.
BONUS TRACKS: Paramount Seal (alternate)
0:11
39.
Walk Like a Dragon (long version) (Composed and sung by Mel Tormé)
2:17
Disc Time:
78:04
Disc 3: Nevada Smith: The Paramount Westerns Collection
1.
WILL PENNY (David Raksin): Logo
0:10
2.
Will Penny (extended)
6:24
3.
One More Hand / The Wholly Family
2:01
4.
An Eye for an Eye / No Good Way
2:51
5.
Maybe So
1:27
6.
De-Bunking / Fahrwud
1:25
7.
Quincemeat
2:37
8.
Behind the Ears / Twixt Sap and Bark
2:09
9.
With Boston Charley / Merry Christmas
3:34
10.
2/4 D Lean 2
0:49
11.
Wagon Fix / Sulpher Little Children / Smoked Cad
2:28
12.
Farewell / Theme From Will Penny (The Lonely Rider) (Don Cherry, vocal)
6:33
13.
BONUS TRACKS: Theme From Will Penny (rock version)
2:33
14.
The Lonely Rider (demo)
2:25
15.
THE HANGMAN† (Harry Sukman): The Hangman Prelude
2:09
16.
To Fort Kenton
0:28
17.
Selah's Tempted
0:47
18.
Amy Hopkins / Heart-Throb / No Selah
1:37
19.
Bovard Briefs the Witness
2:24
20.
Pedro and Big Murph / Drop the Handkerchief
2:31
21.
Anguish
1:36
22.
Johnny's Home
1:45
23.
Witness on Parade
3:00
24.
Weston Weakens
1:40
25.
The Plot Thickens
3:13
26.
The Shooting / The Chase
2:51
27.
Bovard's Story
3:08
28.
The Jail Break
1:58
29.
The Hangman Finale
1:18
30.
BRANDED (Roy Webb): Branded Prelude
1:08
31.
A Short Talk
1:56
32.
The Trek
1:35
33.
Branded Finale / Cast
0:47
34.
BONUS TRACK ROUNDUP: The Rakes of Mallow (Streets of Laredo)
0:59
35.
Hotel Piano (The Hangman)
1:19
36.
Pedro (The Hangman)
0:27
37.
Party Guitar (The Furies)
1:01
38.
The Town Turns Out (Copper Canyon)
0:44
39.
Copper Canyon (Copper Canyon)
0:44
Disc Time:
78:31
Disc 4: Nevada Smith: The Paramount Westerns Collection
1.
THE FURIES (Franz Waxman): The Furies Prelude / Clay's Introduction (film version)
2:24
2.
Juan and Vance
0:36
3.
Posting the Invitation / A Woman Scorned
1:33
4.
Stay off the Furies / The Herreras' Home
4:06
5.
Restless Love
1:50
6.
Vance's Vengeance
3:22
7.
Attacking the Herrera Fortress
1:13
8.
The Squatters' Surrender
2:44
9.
Buying T.C.'s Montage
1:00
10.
The King of the Furies
2:00
11.
The Furies Cast
0:29
12.
BONUS TRACK: Clay's Introduction (original version)
1:29
13.
COPPER CANYON (Daniele Amfitheatrof): Copper Canyon Prelude / Foreword (extended)
1:56
14.
Copper Valley
0:48
15.
The Tale / Young and Old Love
2:11
16.
The Informer
1:47
17.
A Mysterious Helper / The Chase / Johnny's Deception
5:10
18.
Unexpected Help
1:56
19.
Balfour's Murder
1:32
20.
Johnny's Intrusion / Johnny Takes Command
4:54
21.
The Showdown
3:01
22.
Copper Canyon Finale / Cast
1:02
23.
STREETS OF LAREDO (Victor Young): Streets of Laredo Prelude
2:35
24.
Rannie Joins Up
3:55
25.
Rannie and New Trouble (partial)
3:05
26.
Saloon Piano / Law & Order
4:05
27.
Calico's Hacienda
3:53
28.
A Ranger's Revenge
3:39
29.
Jim Proposes
3:59
30.
Jim Takes the Job
3:19
31.
A Tense Situation / The Last Chapter (partial) / The Cast (based on "Streets of Laredo" by Jay Livingston & Ray Evans)
3:01
Disc Time:
Total Album Time:
78:34
313:34
From the Manufacturer
Track Listing Legend:
* Includes "Love Is Trouble" by Tom Glazer
** Includes "Walk Like a Dragon" by Mel Tormé
†stereo
La-La Land Records and Paramount Pictures proudly present Nevada Smith: The Paramount Westerns Collection, a deluxe 4-CD soundtrack collection of original film score recordings from Paramount Pictures' big-screen westerns Nevada Smith (1966), El Dorado (1967), Three Violent People (1957), Kid Rodelo (1966), Walk Like a Dragon (1960), Will Penny (1968), The Hangman (1959), Branded (1950), The Furies (1950), Copper Canyon (1950), and Streets of Laredo (1949).
Meticulously restored from Paramount Pictures' vault elements, this exciting compilation features original score recordings from eleven of the studio's western features spanning the course of two decades. Most of these recordings are making their world premiere here, and many contain material not heard in their respective films. It's a sonic treasure chest, showcasing Hollywood's top Golden Age maestros at the apex of their craft, working in a legendary genre. Composers Alfred Newman, Nelson Riddle, Walter Scharf, Johnny Douglas, Paul Dunlap, David Raksin, Harry Sukman, Roy Webb, Franz Waxman, Daniele Amfitheatrof and Victor Young are represented here, their music encompassing a breathtaking variety, from grand orchestral sweep to spare and intimate moments – and everything in-between.
Produced by John Takis and Frank K. DeWald, with audio restoration by Chris Malone, this special 4 disc collection is limited to 1000 units, and features a 36 page booklet with exclusive, in-depth liner notes written by the producers. Dan Goldwasser's art design corals the packaging together in classic fashion.
Missing Information?
If any information appears to be missing from this page, contact us and let us know!