Soundtrack Information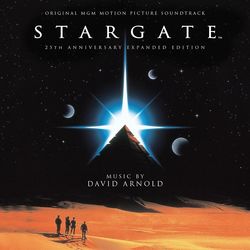 Stargate - 25th Anniversary Expanded Edition
Limited Edition of 3,000 Units
La-La Land Records (LLLCD 1511)
Release Date: December 3, 2019
Format: CD
Music From
Music By
Track Listing
Disc 1: Stargate - 25th Anniversary Expanded Edition
1.
SCORE PRESENTATION: Stargate Overture
3:03
2.
Abduction
1:18
3.
Giza, 1928
2:12
4.
Unstable (Film Version)
2:44
5.
The Coverstones
1:00
6.
Translation / In Case You Succeed
0:52
7.
Orion (Film Version)
1:30
8.
The Stargate Opens
3:58
9.
Send In The Probe
2:08
10.
You're On The Team
1:57
11.
Entering The Stargate (Film Version)
3:00
12.
The Other Side
1:46
13.
Bomb Assembly
1:09
14.
Mastadge Drag
0:57
15.
The Mining Pit
1:34
16.
King Of The Slaves (Film Version)
1:21
17.
Caravan To Nagada
2:14
18.
The Eye Of Ra
0:41
19.
Daniel And Sha'uri
1:55
20.
Spread Out
1:52
21.
Skaara And Gun
0:44
22.
Symbol Discovery
1:13
23.
Sarcophagus Opens (With Choir)
0:58
24.
Daniel's Mastadge (Film Version)
0:50
25.
Leaving Nagada (Film Version)
4:13
26.
Ra – The Sun God (Film Version)
3:22
27.
The Destruction Of Nagada
2:09
Disc Time:
50:40
Disc 2: Stargate - 25th Anniversary Expanded Edition
1.
Myth, Faith, Belief
2:22
2.
Procession
1:45
3.
Slave Rebellion
1:02
4.
We Don't Want To Die
2:00
5.
Execution
1:18
6.
The Kiss
0:38
7.
The Seventh Symbol (Extended Version)
1:19
8.
Against The Gods
0:35
9.
Quartz Shipment
1:31
10.
Battle At The Pyramid (Film Version)
5:27
11.
The Surrender
1:45
12.
Transporter Horror
1:49
13.
Kasuf Returns
3:07
14.
Going Home
3:10
15.
End Credits
1:13
16.
ADDITIONAL MUSIC: Unstable
2:11
17.
Orion
1:31
18.
The Stargate Opens (Alternate Excerpt)
1:16
19.
Entering The Stargate
2:58
20.
King Of The Slaves
1:17
21.
The Eye Of Ra (With Choir))
0:41
22.
Sarcophagus Opens
0:57
23.
Daniel's Mastadge
0:50
24.
Leaving Nagada
4:11
25.
Ra – The Sun God
3:24
26.
Ra – The Sun God (Film Version Excerpt, No Choir)
2:16
27.
The Seventh Symbol
0:58
28.
Battle At The Pyramid
5:03
29.
End Credits (Alternate Take)
1:15
Disc Time:
Total Album Time:
57:49
108:29
From the Manufacturer
La-La Land Records and MGM proudly present Stargate: 25th Anniversary Expanded Limited Edition, a 2-CD remastered, deluxe presentation of renowned composer David Arnold's original motion picture score to the 1994 landmark sci-fi feature film Stargate, starring Kurt Russell and James Spader, and directed by Roland Emmerich. One of the great adventure scores of the 1990's, Stargate ushered David Arnold into the universe of Hollywood's most sought after composers and kicked off a prolific career that continues to this day. Positively overflowing with action, drama and wonder, Arnold's score is an orchestral masterwork every bit as epic as the film's multi-dimensional interstellar plot – and this release unleashes its musical power. Produced by the composer and Neil S. Bulk, and mastered by Doug Schwartz, this stellar-sounding release is expanded across a 2-CD assembly, showcasing the score presentation and additional music tracks for a running time of 109 minutes. The exclusive, in-depth liner notes are by writer Tim Greiving and the sharp art design is by Dan Goldwasser. This is a limited CD edition of 3000 units.
Missing Information?
If any information appears to be missing from this page, contact us and let us know!