Soundtrack Information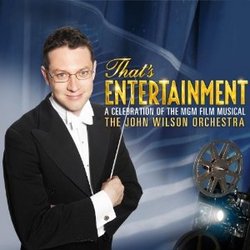 That's Entertainment - A Celebration of the MGM Film Musical
Limited Luxury Edition
Release Date: September 25, 2012
Conducted by John Wilson
Performed by
The John Wilson Orchestra
Format: CD
Music From
Purchase Soundtrack
Track Listing
1.
MGM Jubilee Overture
2.
The Trolley Song - Meet Me in St. Louis
3.
Steppin' Out With My Baby - Easter Parade
4.
The Heather On The Hill - Brigadoon
5.
Barn Dance - Seven Brides for Seven Brothers
6.
You're Sensational - High Society
7.
I Got Rhythm - Girl Crazy
8.
Singin' In The Rain - Singin' in the Rain
9.
Main Title - An American in Paris
10.
Love Is Here To Stay - An American in Paris
11.
Well, Did You Evah? - High Society
12.
One Kiss / Lover Come Back To Me - The New Moon
13.
Broadway Melody Ballet - Singin' in the Rain
14.
That's Entertainment! - The Band Wagon
Track lengths not available for this album. If you have track length/time information for this album, please e-mail it to us at mail@soundtrack.net and we will add it to the database.
Missing Information?
If any information appears to be missing from this page, contact us and let us know!