Soundtrack Information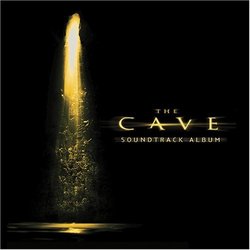 The Cave
Lakeshore Records (LKS 33816)
Release Date: July 12, 2005
Formats: CD, Digital
Music From
Purchase Soundtrack
Track Listing
| | | |
| --- | --- | --- |
| 1. | "Irreversal" - Killswitch Engage | 3:47 |
| 2. | "Nemo" - Nightwish | 4:33 |
| 3. | "You Eclipsed Me" - Atreyu | 3:38 |
| 4. | "I'll Find the Way" - Ill Nino | 3:57 |
| 5. | "Inspiration on Demand" - Shadows Fall | 3:53 |
| 6. | "Pull Harder on the Strings of Your Martyr" - Trivium | 4:22 |
| 7. | "Daylight Dancer" - Lacuna Coil | 3:48 |
| 8. | "Hard Night" - Open Hand | 4:52 |
| 9. | "Love Lost in a Hail of Gunfire" - Bleeding Through | 4:58 |
| 10. | "Medieval" - Diecast | 3:46 |
| 11. | "Love?" - Strapping Young Lad | 4:23 |
| 12. | "Magnolia" - Bury Your Dead | 2:46 |
| 13. | "A Thredony for Modern Romance" - It Dies Today | 3:30 |
| 14. | "Blood & Thunder" - Mastodon | 3:48 |
| 15. | "Prescription" - Vext | 3:27 |
| 16. | "King of the Demimonde" - Burning Brides | 5:29 |
| 17. | "Taking You Down" - Egypt Central | 2:59 |
| 18. | "Conflicted Conditioned" - Devilinside | 2:32 |
| 19. | "Bring the Pain / Multiple Incisions" - Candiria | 4:53 |
| | Total Album Time: | 75:21 |
Review: Cave, The
by Mike Brennan
August 10, 2005
1.5 / 5 Stars
The Cave is a horror/action film about a group of divers who find horrible monsters in a hellish cave system. The soundtrack album features a collection of metal and hard rock songs, which have nothing to do with the film. Various artist collections, while they occasionally sell well, rarely warrant a review. However, that having been said, the soundtrack to The Cave does have a dark, fast-paced feel, which reflects the nature of the film. While some of the song titles have some humorously ironic connections with the film (i.e. "Daylight Dancer" and "Love Lost in a Hail of Gunfire") the songs have little to do with the film. Most of them meld into a monotone of raging guitars, but a few songs do stand out, namely "Nemo" by Nightwish (perhaps a connection that the film takes place underwater?) and Ill Nino\'s "I\'ll Find the Way". This soundtrack contains no score cues, though, and should only be considered by fans of hard rock and metal.
Missing Information?
If any information appears to be missing from this page, contact us and let us know!