Soundtrack Information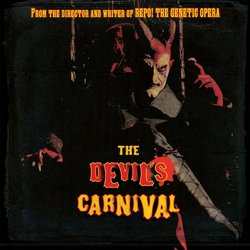 The Devil's Carnival
Release Date: September 4, 2015
Format: Vinyl
Music From
Purchase Soundtrack
Track Listing
Disc 1: The Devil's Carnival
1.
Storytime / Heaven s All Around (Paul Sorvino)
2.
Tears, John / The Devil s Carnival (Alexa Vega)
3.
In All My Dreams I Drown (Jessica Lowndes)
4.
It s Showtime! (Score) (Dayton Callie)
5.
666 (Dayton Callie)
6.
Kiss The Girls (Alexa Vega)
7.
The Midway (Terrance Zdunich)
8.
The Dog And Her Reflection / Beautiful Stranger (OhGr)
Disc 2: The Devil's Carnival
1.
A Penny For A Tale (Ivan Moody)
2.
You re Prettier Anyhow (Marc Senter)
3.
The Scorpion And The Frog / Trust Me (Marc Senter)
4.
Prick! Goes The Scorpion's Tale (Emilie Autumn)
5.
The Devil And His Due (Terrance Zdunich)
6.
Grief (Alternate Version) (Sean Patrick Flanery)
7.
Grace For Sale (Terrance Zdunich)
8.
Off To Hell We Go (Terrance Zdunich)
Track lengths not available for this album. If you have track length/time information for this album, please e-mail it to us at mail@soundtrack.net and we will add it to the database.
Missing Information?
If any information appears to be missing from this page, contact us and let us know!