Soundtrack Information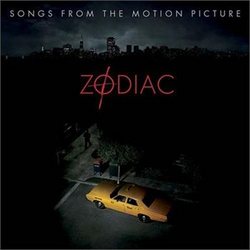 Zodiac
Lakeshore Records (LKS 339062)
Release Date: February 27, 2007
Formats: CD, Digital, Vinyl
Music From
Track Listing
| | | |
| --- | --- | --- |
| 1. | "Easy to Be Hard" - Three Dog Night | 3:15 |
| 2. | "Sky Pilot" - Eric Burdon and the Animals | 7:33 |
| 3. | "Soul Sacrifice" - Santana | 6:37 |
| 4. | "Bernadette" - Four Tops | 3:02 |
| 5. | "(I Never Promised You a) Rose Garden" - Lynn Anderson | 2:57 |
| 6. | "I Want to Take You Higher" - Sly and the Family Stone | 5:25 |
| 7. | "Hyperbolicsyllabicsequedalymistic" - Isaac Hayes | 9:41 |
| 8. | "Inner City Blues (Make Me Wanna Holler)" - Marvin Gaye | 5:29 |
| 9. | "Brother Louie" - Stories | 3:57 |
| 10. | "Hurdy Gurdy Man" - Donovan | 3:20 |
| 11. | "It's Not For Me to Say" - Johnny Mathis | 3:06 |
| 12. | "Mary's Blues" - John Coltrane | 6:47 |
| 13. | "Solar" - Miles Davis | 4:44 |
| 14. | "Johnny Mann Singers" - The Sound of the City | 1:14 |
| | Total Album Time: | 67:07 |
Review: Zodiac
by Matt Millstein
May 11, 2007
4.5 / 5 Stars
The song soundtrack to the David Fincher film Zodiac is a great one. I have not seen the film, but the soundtrack truly captures the late 60\'s early 70\'s time period, when the notorious Zodiac killer was terrorizing San Francisco. The music on this soundtrack features classic acts like Three Dog Night, Eric Burdon and the Animals, Santana, The Four Tops, Marvin Gaye, Isaac Hayes and Sly and the Family Stone. These acts represent was what was really being played on the radio in the late 60\'s and early 70\'s. There is a certain level of authenticity to this soundtrack; these are all vintage cuts. It is very seldom that a soundtrack nails a time period, and this one does with no question. That being said, if funky, 60\'s-70\'s pop and soul and late 50\'s jazz isn\'t your thing, then you might want to stay away.
There are a few songs on the album that are a bit schmaltzy like Johnny Mathis\'s "It\'s Not For Me Too Say" and Lynn Anderson\'s "(I Never Promised You a) Rosegarden". However they fall into the kitschy cool category, clearly showcasing what was on the other end of the pop musical spectrum from edgier music like Santana and Sly and the Family Stone. John Coltrane\'s "Mary\'s Blues" and Miles Davis\'s "Solar" round out the jazz portion of the soundtrack. These tracks evoke the hip and sultry milieu of a smoky, urban, jazz club. Both songs are from late 50\'s cool jazz albums when Miles Davis and John Coltrane were doing some of their best work.
What really stood out to me on this soundtrack are the funk and soul cuts. Some of the best music to come out of the 60\'s and 70\'s was funk and soul and there are some real standouts on this soundtrack: "Bernadette" by The Four Tops, Marvin Gaye\'s "Inner City Blues (Make Me Wanna Holler)" and Sly and the Family Stone\'s "I Wanna Take You Higher". The blissful harmonies and lush orchestration of "Bernadette" are as good as it gets, which is why this song was such monumental Motown hit. Another Motown classic, the gritty urban soul of Marvin Gaye\'s "Inner City Blues (Make Me Wanna Holler)" exemplifies the best of socially conscious soul music. Marvin is arguably at the peak of his powers, sounding as pertinent today as he did back when it came out. Sly and the Family Stone, a groundbreaking act from San Francisco combined rock n\' roll, funk and soul to create a culturally diverse musical stew unlike anything else. One of their most famous tunes "I Wanna Take You Higher" appears on this album and its tight horn arrangement and earthy, funky, groove does for the listener what the song title suggests.
While I could write positively about every song on this soundtrack, I could perhaps do without the Lynn Anderson and Johnny Mathis cuts, however they do add to the nostalgia factor. The Zodiac soundtrack is effective at evoking time and place. There was a cultural and musical movement going on in the United States, and in particular San Francisco, during the time of the Zodiac killer, and the Zodiac soundtrack illustrates this with clarity using songs by San Francsico bands like Sly and the Family Stone and Santana - both which were figureheads of 60\'s and 70\'s pop music.
Even without the images of the film, the Zodiac soundtrack stands very well on its own. I recommend this soundtrack highly; it is expertly compiled and very effective on its own. I may or may not go see the movie, but I will definitely give this soundtrack many more spins.
Missing Information?
If any information appears to be missing from this page, contact us and let us know!