Movie Information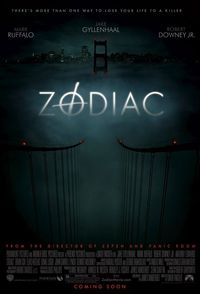 Zodiac
Released: March 2, 2007
Review: Zodiac
by Dan Goldwasser
February 22, 2007
3.5 / 5 Stars
Based on the 1986 novel by Robert Graysmith about the serial killings done by the "Zodiac Killer" in the late 1960s, the Zodiac focuses on Graysmith\'s account of the murders, and his subsequent investigation and research for his novel. I had great expectations for this film, given Fincher\'s track record for dark and interesting films (Seven and The Game most notably). However, I was ultimately let down - maybe my expectations were too high. It\'s a very well done film, but a bit too long and suffers from a rather anti-climactic ending.

The film starts out in the summer of 1969, when a young couple is attacked by the Zodiac killer - the man survives, but the woman is killed. Shortly thereafter, a letter with a code cypher is sent to three newspapers, including the San Francisco Chronicle, where Robert Graysmith (Jake Gyllenhaal) is working as an editorial cartoonist. He observes the media and criminal investigations from the sidelines, as crime-reporter Paul Avery (Robert Downey Jr.) spearheads the reporting, and Inspectors David Toschi (Mark Ruffalo) and William Armstrong (Anthony Edwards) investigate the murders. Time progresses in leaps and bounds, as the bulk of the film traverses an eight year period replete with multiple murders, a few botched attempts, and a few suspects. Careers are made and fall apart, and it\'s all very interesting to watch. However, by the end of the film, over 2.5 hours has progressed (as well as over 20 years), and we\'re left with a few pages of lengthy text to wrap it all up for us. Who was the Zodiac killer? We may never know, but they strongly hint at a particular suspect in this film (and in the book). Because there is no certainty to the actual case, and this film sticks to the facts (as best as they could, in the book), it feels like the ending was never finished.

The acting is overall solid, with Robert Downey Jr. standing out for his performance. Mark Ruffalo also should be noted, and the production design does a nice job of setting the scene firmly in the 1970s. There weren\'t as many "Fincherisms" as I had hoped for, but there were a few shots that were very stylish and well conceived. The score, by the king of 1970s scores, David Shire (who they dragged out of retirement), is effective and retro in an appropriately moody way. It\'s a violent film at times, as expected, and it\'s interesting to watch the story unfold for the most part - but it loses steam towards the last third, and it\'s a bit longer than it should be. The lack of an ending will annoy many, and while it\'s well made, I\'d say hold out for DVD to watch Zodiac - but definitely do see it!
Trailer Music Used From
Theatrical Trailer
"(I Know) I'm Losing You" - Rod Stewart
News &amp Articles
Missing Information?
If any information appears to be missing from this page, contact us and let us know!