Movie Information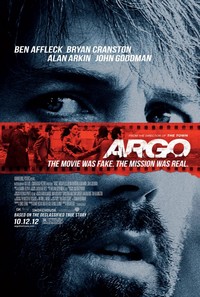 Argo
Released: October 12, 2012
Song Credits
"Upside Down" from In The Valley Of Elah


Written by Mark Isham
Courtesy of Warner Bros. Entertainment Inc./Summit Entertainment, LLC

"Charlie's Tune"


Written by Joseph Liebman
Performed by Bobby Short
Courtesy of Revlon, Inc.

"March To The Dead City" from Battle For The Planet Of The Apes


Written by Leonard Rosenman
Courtesy of Twentieth Century Fox Film Corporation

"Hip-Hug-Her"


Written by Steve Cropper, Donald Dunn, Al Jackson, Jr. and Booker T. Jones
Performed by Booker T. & The MG's
Courtesy of Atlantic Recording Corp. / Rhino Entertainment Company
By arrangement with Warner Music Group Film & TV Licensing

"Little T&A"


Written by Mick Jagger and Keith Richards
Performed by The Rolling Stones
Courtesy of Promotone B.V.

"Sultans Of Swing"


Written by Mark Knopfler
Performed by Dire Straits
Courtesy of Warner Bros. Records Inc.
By arrangement with Warner Music Group Film & TV Licensing

"Dance The Night Away"


Written by Edward Van Halen, Alex Van Halen, Michael Anthony and David Lee Roth
Performed by Van Halen
Courtesy of Warner Bros. Records Inc.
By arrangement with Warner Music Group Film & TV Licensing

"Concrete Jungle"


Written by Rod Byers
Performed by The Specials
Courtesy of EMI Records Ltd.
Under license from EMI Film & Television Music

"Adhan – Call To Prayer"


Traditional, arranged and performed by SHAAM
Courtesy of Meem Ltd.

"Abwoon Call To Prayer"


Written and performed by Jahanara Laura Mangus

"When The Levee Breaks"


Written by Jimmy Page, Robert Plant, John Paul Jones and John Bonham
Performed by Led Zeppelin
Courtesy of Atlantic Recording Corp.
By arrangement with Warner Music Group Film & TV Licensing

"Stalking Stars"


Written and performed by Andrew Lockington

"Al Adhan"


Traditional, arranged by Pat Jabbar
Performed by Youssef El Mejjad
Courtesy of Barraka Productions

"Do You Miss London" from Spy Game


Written by Harry Gregson Williams
Courtesy of Beacon Pictures

"Hace Tuto Guagua"


Traditional, arranged by Taato Gomez
Performed by Familion
Courtesy of Epic Records
By arrangement with Sony Music Licensing
Review: Argo (Blu-ray)
by Dan Goldwasser
February 26, 2013
4 / 5 Stars
In November, 1979, militant Islamists stormed the U.S. Embassy in Tehran and took 52 Americans hostages. It was an ordeal that gripped the world and lasted for 444 days. In the attack on the embassy, six Americans managed to escape and sought refuge in the residency of the Canadian Ambassador. The CIA, in an effort to attempt an extraction of the six "house guests," turned to specialist Tony Mendez to devise a plan. His idea was bold, unorthodox, and carried a high risk of failure. It was called "The Hollywood Option" and the story about it and how it all went down is the basis for Argo.
In the film, Mendez (Ben Affleck), along with Hollywood make-up artist John Chambers (John Goodman) and producer Lester Siegel (Alan Arkin), come up with the plan: option a crappy script, create a fake production company, get the word out about the film project (to create the illusion of it all being legit), go to Iran to meet the six house guests who will pose as Canadian film crew on a location, provide them fake identities, and then leave with them using fake visas. Suffice it to say, it was a very ambitious plan.
Argo, which just won the Academy Award for Best Motion Picture, is a solid film—but not a great film. It takes a real-life story about an amazingly risky (and ultimately successful) mission to rescue six Americans from Iran, but does so by massaging the truth a bit to make it more cinematic. That's not necessarily a bad thing—it's not often that films "based on a true story" are ever 100% accurate. Still, to make it more interesting, the film turns into a bit of a caper, creating tense beats that allow the audience to grip the arms of their chairs—and it works.
Affleck (along with Oscar-winning screenwriter Chris Terrio) put together a solid thriller that sports a nice balance of tension (in Iran), straight-forward drama (in Washington, D.C.) and humor (in Hollywood), all while slowly building to an exciting climax. The acting is good, with Alan Arkin and John Goodman standing out most above the others. The tight Oscar-winning editing by William Goldenberg combines with Oscar-nominated composer Alexandre Desplat's music to create a film that works as good entertainment while informing the audience about a relatively unknown story under the backdrop of the Iranian hostage crisis.
Recently released on Blu-ray, the folks at Warner Bros. Home Video have done Argo right. Cinematographer Rodrigo Prieto shot the film with an emphasis on strong contrasts, with darks that are never crushed beyond the ability to see detail and brights that occasionally (and intentionally) blow out. Color saturation is solid, with occasional shifts towards cooler and warmer ends of the spectrum depending on the scene, but maintaining a natural fleshtone throughout. The detail in the image is crisp and clean, and there is a steady and unobtrusive patina of grain throughout the film with nearly every format being used to shoot the film (from digital, to Super 16, Super 35, Super 8, and others). Obviously, some of the "archival" moments feel grainier than others, but it all looks quite good.
Audio for Argo is presented primarily in a DTS-HD Master Audio 5.1 English track. It's an immersive and constantly active track, from the opening sequence as the American Embassy is stormed to the tense moments at the airport. Even quiet scenes have a bit of ambient sound design keeping you firmly planted in the location and it's an overall well-polished track. Dialogue is clear and easy to understand, even during frenetic scenes with lots of people shouting. The Oscar-nominated score by Alexandre Desplat gets diligent placement in the soundscape, never competing too much with the sound effects and dialogue, but coming to the fore when necessary. It's not a demo-quality audio track, but it certainly is well crafted. Audio is also available in French, Chinese, Spanish, Portuguese and Thai Dolby Digital 5.1.
Argo comes to Blu-ray as a Combo Pack, with the Blu-ray release, the DVD, and an UltraViolet Digital Copy. The Blu-ray contains a very nice selection of extras, the majority of which actually focus more on the real-life events instead of the film itself. First up is a compelling and must-see "Picture-in-Picture: Eyewitness Account" feature, which runs the length of the film and recounts the story of Argo through new interviews with pretty much everyone involved, from President Jimmy Carter and Tony Mendez, to house guests Mark and Cora Likey, Kathy Stafford, Bob Anders, and others. It's a nearly non-stop presentation, one that provides a kind of authentic side-commentary to the film, without actually being screen-specific. To hear the story from the mouths of those who lived it is truly fascinating and engaging, and the differences between what really happened and the fictionalized account in Argo makes for some eye-opening moments. On the filmmaking side, we are presented with a very in-depth and informative audio commentary by director/actor Ben Affleck and writer Chris Terrio. They touch on most aspects of the production, as well as the challenges they had in making some sequences more exciting than the real-life events, without taking anything away from the experience of the house guests.
"Rescued from Tehran: We Were There" (HD, 17-minutes) shares a bit of overlap with the "Picture-in-Picture" feature, but serves as a nice, tight standalone recounting of the events as told by Carter, Mendez, and the house guests. "Absolute Authenticity" (HD, 11.5-minutes) looks at the making of the film and Ben Affleck's insistence on diligent research to replicate every location as accurately as possible. Lots of behind-the-scenes footage is employed, as well as interviews with Affleck, the production team, and the cast. "Argo: The CIA and Hollywood Connection" (HD, 6-minutes) uses moments from the film, supplemented with interview bits from Ben Affleck, Chris Terrio, John Goodman and Tony Mendez, to discuss the relationship that the CIA had with Hollywood—in particular through makeup artist John Chambers. Finally, the 2005 television documentary, "Escape from Iran: The Hollywood Option" (SD, 46.5-minutes) looks back at the actual events with interviews, footage and archival photos. It's a compelling and engaging piece and one can see where Argo stayed authentic and where they embellished a little for drama. There is no trailer, sadly.
With three great films in a row, Affleck has handily secured his directorial career and I look forward to whatever his next project is. Argo is a really enjoyable film, has a great presentation on Blu-ray, and the solid number of extras—and the fact they focus primarily on the real people in the real events—makes it a must-have Blu-ray.
Trailer Music Used From
Theatrical Trailer
"Sing for the Moment" - Eminem
Missing Information?
If any information appears to be missing from this page, contact us and let us know!