Movie Information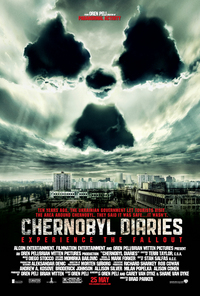 Chernobyl Diaries
Released: May 25, 2012
Song Credits
"Alright"


Written by Gareth Coombes, Daniel Goffey and Michael Quinn
Performed by Supergrass
Courtesy of EMI Records Ltd.
Under license from EMI Film & Television Music

"Magic"


Performed by Vika
Written by Vika Vasilevich
Courtesy of Crucial Music Corporation

"Balalaika Virgin"


Composed & Performed by Brad Lang
Published by Focus Music (Publishing) Ltd.
Courtesy of 5 Alarm Music

"Black Russian"


Composed & Performed by Chris Haigh
Published by JW Media Music
Courtesy of 5 Alarm Music

"No Reflection"


Produced by Marilyn Manson
Co produced by Chris Vrenna
Written by M.Manson, Twiggy
Performed by Marilyn Manson
Mixed by Sean Beavan for SOS management
From Born Villain album Cooking Vinyl Records
Songs Of Golgatha Music (BMI), Blood Heavy Music (BMI)
Review: Chernobyl Diaries (Blu-ray)
by Dan Goldwasser
November 1, 2012
2 / 5 Stars
Oren Peli burst onto the scene with his "found footage" horror film Paranormal Activity, spawning a whole new slew of "found footage" films—typically low budget films that are relatively fast to produce and are easy money-makers for the studios. After producing the highly successful Insidious, Peli turned his attention to a new idea: what if there was some kind of conspiracy surrounding the Chernobyl nuclear disaster in the Ukraine involving radiated survivors? The result was Chernobyl Diaries and while it has a great premise and promising start, the end result is just another cheap horror flick.
Chris (Jesse McCartney), his girlfriend Natalie (Olivia Taylor Dudley) and their friend Amanda (Devin Kelley) are in the middle of a European trip, working their way towards Moscow. They make it to Kiev, where they meet up with Chris' brother Paul (Jonathan Sadowski), where Chris reveals that he intends to propose to Natalie when they get to Moscow. Wanting to provide his brother and his friends with some excitement, Paul signs them all up for an "extreme tour" of the abandoned worker town of Prypiat adjacent to Chernobyl. Led by local "extreme" tour guide Yuri (Dimitri Diatchenko), the group is joined by another backpacking couple (Zoe (Ingrid Bolso Berdal) and Michael (Nathan Phillips)) and they all head out on the hours-long drive to Prypiat. They get to a checkpoint at the Chernobyl Exclusion Zone, only to be turned away by the military—but Yuri knows a back way in.
They make it inside the abandoned city and begin to explore, dismissing the occasional hints that some kind of radiated mutation has been taking hold of the city. When night begins to fall and they discover that the wires in the van have been chewed through, their situation becomes dire. Things go from bad to worse when a pack of aggressive dogs attack Chris—and Yuri goes missing. Now the group begins to play a game of cat-and-mouse as they try to survive the night, find a way to fix the van, and get out of Prypiat—but there is something worse than dogs out there in the dark.
Until the attacks begin, the way Chernobyl Diaries is presented is relatively solid. Director Bradley Parker does a decent job of giving us sympathetic characters to associate with and cheer for and the back story of the Chernobyl plant disaster and abandoned town of Prypiat is certainly ripe with potential. But as soon as night descends and things start to go bad for our band of unsuspecting travelers, the film begins to devolve into a typical horror film with lots of dark imagery that makes you question what you're looking at, lots of moments of silence before something bursts onto the screen, and a few chase segments that, while well executed, don't bring anything new to the genre. There is creative use of "found footage" (in this case, an iPhone video) to show us what happens to some of the characters and the ambient music score by Diego Stocco really helps with the tension of the film. It's a shame that the film ultimately didn't build a compelling and memorable mythology to the Chernobyl disaster, especially since it certainly had the ability to do so. In the end, Chernobyl Diaries will stand as another example of a very low budget film (reportedly only $1 million to make) doing well—justifying more just like it.
Shot digitally, Chernobyl Diaries comes to Blu-ray sporting a solid presentation that mirrors the original look of the movie in theaters. During the first act of the film, things are bright and crisp with the color saturation set at a nice medium and good detail present in the image. Things change a bit when the action moves to Pripyat; the palette loses its punch, things appear more drab and, when nightfall comes, the image gets even darker and murkier. It never felt like anything was blown out or punched up and the overall impression is that it's a good looking film, for what it is.
Audio is presented in an English DTS-HD Master Audio 5.1 track that focuses much more on front-and-center dialogue than I would have expected. The "tension" (and rare "action") scenes pack more of a punch with the subwoofer and surround sounds kicking in and Diego Stocco's ambient music is subtle and effective in adding an extra layer of dread and anxiety to the film, especially in the low end.
Four meagre supplements are included on the Blu-ray. An "Additional Scene" (HD, 1-minute) is just a brief moment where the leads make a "toast" to their trip and an "Alternate Ending" (HD, 2-minutes) shows a silly (and thankfully unused) alternate fate to one of the characters. A fake commercial, "Uri's Extreme Tours Infomercial," (HD, 1.5-minutes) shows everyone's favorite tour guide making his sales pitch for his extreme adventures, and "Chernobyl Conspiracy Viral Video" (HD, 2.5-minutes) gives us a little bit of back story into the actual disaster, as well as a taste of the 'conspiracy theory' that inspired the premise of the film.
No trailer or behind-the-scenes material is presented, although this version of the Blu-ray comes with a DVD version of the film, as well as an Ultraviolet Digital Copy.
Chernobyl Diaries has a really cool premise, but ends up a missed opportunity. The Chernobyl reactor meltdown disaster and the ghost-town of Pripyat can certainly inspire any number of different conspiracy theories, but, in the end, the film devolves into a standard "creepy things in the shadows attacking our cast" monster movie. It looks and sounds nice on Blu-ray, but the lack of any substantial extras and weak second half of the film, make Chernobyl Diaries a rental, at best.
Missing Information?
If any information appears to be missing from this page, contact us and let us know!