Movie Information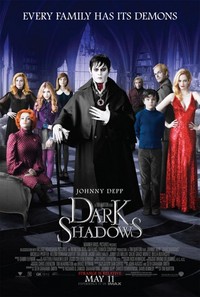 Dark Shadows
Released: May 11, 2012
Movie Purchasing Links
Song Credits
"The Secret Room"


Written by Robert Cobert

"Nights In White Satin"


Written by Justin Hayward
Performed by The Moody Blues
Courtesy of Universal International Music, B.V.
Under license from Universal Music Enterprises

"I'm Sick Of You"


Written by Iggy Pop and James Williamson
Performed by Iggy And The Stooges
Courtesy of Cleopatra Records
By arrangement with pigFACTORY USA LLC.

"Season of the Witch"


Written and performed by Donovan
Courtesy of Donovan Discs

"Highway Star (Roger Glover Remix)"


Written by Ritchie Blackmore, Ian Gillan, Roger Glover, Jon Lord and Ian Paice
Performed by Deep Purple
Licensed courtesy of Deep Purple (Overseas) Ltd.
By special arrangement with Spark Music LLC
Courtesy of EMI Records Ltd.

"Superfly"


Written and performed by Curtis Mayfield
Courtesy of Rhino Entertainment Company/Curtom Records
By arrangement with Warner Music Group Film & TV Licensing

"Theme from A Summer Place"


Written by Max Steiner
Performed by Percy Faith
Courtesy of Columbia Records
By arrangement with Sony Music Licensing

"Top of the World"


Written by Richard Carpenter and John Bettis
Performed by The Carpenters
Courtesy of A&M Records
Under license from Universal Music Enterprises

"Crocodile Rock"


Written by Elton John and Bernie Taupin
Performed by Elton John
Courtesy of Mercury Records Limited
Under license from Universal Music Enterprises

"Paranoid"


Written by John Osbourne, Tony Iommi, Terence Butler and William Ward
Performed by Black Sabbath
Courtesy of Downlane Limited

"Hippy Nightstrums"


Written and performed by Tom Higham

"The Joker"


Written by Steve Miller, Eddie Curtis and Ahmet Ertegun

"Who's Afraid Of The Big Bad Werewolf"


Written by Joseph Barbera and William Hanna

"The Lion Sleeps Tonight"


Written by George David Weiss, Hugo Peretti, Luigi Creatore and Solomon Linda
Performed by Robert John
Courtesy of Atlantic Recording Corp.
By arrangement with Warner Music Group Film & TV Licensing

"You're The First, The Last, My Everything"


Written by Barry White, P. Sterling Radcliffe and Tony Sepe
Performed by Barry White
Courtesy of The Island Def Jam Music Group
Under license from Universal Music Enterprises

"Bang A Gong (Get It On)"


Written by Marc Bolan
Performed by T Rex
Courtesy of Muscadet Productions, Inc./Straight Ahead Productions Ltd.

"No More Mr. Nice Guy"


Written by Alice Cooper and Michael Bruce
Performed by Alice Cooper
Courtesy of Warner Bros. Records Inc.
By arrangement with Warner Music Group Film & TV Licensing

"Ballad Of Dwight Fry"


Written by Alice Cooper and Michael Bruce
Performed by Alice Cooper
Courtesy of Warner Bros. Records Inc.
By arrangement with Warner Music Group Film & TV Licensing

"I'd Like To Teach The World To Sing (In Perfect Harmony)"


Written by Roger Cook, Roger Greenaway, Roquel Davis and William Backer
Performed by The New Seekers
Courtesy of Elektra Entertainment Group
By arrangement with Warner Music Group Film & TV Licensing
Courtesy of Polydor Records Ltd.
Under license from Universal Music Enterprises

"Go All The Way"


Written by Eric Carmen
Performed by The Killers
Courtesy of The Island Def Jam Music Group
Review: Dark Shadows - Blu-ray
by Dan Goldwasser
September 30, 2012
3 / 5 Stars
Dark Shadows (Blu-ray)
By Dan Goldwasser
September 30, 2012

Running from 1966-1972, Dark Shadows was a gothic soap opera on ABC that focused on the various members of the Collins family and the people around them. It was in the second season, when the vampire Barnabas Collins arrived that the show truly found its footing and started implementing story threads with supernatural elements. By the time the series ended, with over 1,220 episodes, it had tackled everything from ghosts, vampires, werewolves, time travel, parallel universes to witches, zombies, and more. It was enough of a hit that actor Johnny Depp and director Tim Burton—who were huge fans of the show—had been trying to make a film adaptation for years. Well, that adaptation finally came out and the results could have been a bit better, but for a pet project it seemed like everyone involved had a bit of fun making it.
Dark Shadows starts with a prologue sequence in which we see that Barnabas Collins (Johnny Depp) has seduced the family maid, Angelique Bouchard (Eva Green), but he does not love her. Upset at his lack of commitment, Angelique (who is a witch) kills Barnabas' parents. Soon Barnabas falls in love with Josette (Bella Heathcote), but Angelique's fury has not subsided, and bewitches Josette into killing herself—and curses Barnabas, turning him into a vampire. She then gets an angry mob to bury Barnabas alive in a coffin in the woods; forgotten for nearly 200 years.
Now in the 1970s, construction workers accidentally unearth Barnabas' coffin, freeing him. He returns to Collinswood (the family manor), finding it in a state of disrepair and inhabited with the dysfunctional remnants of his descendants and their loyal helpers. Elizabeth Collins Stoddard (Michelle Pfeiffer) is the head of the family, Roger Collins (Johnny Lee Miller) is her lazy brother, Carolyn (Chloe Grace Moretz) is her 15-year-old daughter dealing with some issues, Roger's 10-year-old son David (Gulliver McGrath) can see ghosts (including that of his dead mother)—and Josette, Dr. Julia Hoffmann (Helena Bonham Carter) is David's alcoholic psychiatrist, Willie Loomis (Jackie Earl Haley) is the caretaker and, finally, Victoria (Bella Heathcote) is David's new governess.
Barnabas entices Loomis into being his main helper and after convincing Elizabeth of who he is, is allowed to stay with the family as long as his nature remains a secret. They concoct a cover story of him being a distant relative from England, returned to help rebuild the family fishery which has fallen into disrepair. It turns out that the reason for the Collins family's decline is that Angelique has built a rival company called Angelbay which she has used to summarily destroy the Collins family legacy. Now Barnabas must deal with his family, confront Angelique, and restore the family's reputation. There's a lot more going on as well, including the fact that Barnabas is a vampire and has been feeding on a few of the locals, Victoria might be the reincarnation of Josette, Julia has some of her own plans for Barnabas, and Carolyn's issues might be more than that of a normal teenage girl's.
Dark Shadows is an ensemble movie, driven by Johnny Depp's portrayal of a reluctant vampire and splashed with Tim Burton's quirky oddness. It's also more of a gothic comedy than a drama and there are very few (if any) scares in the film—instead, there are plenty of jokes. By having the film set in the early 1970s, we're given some great opportunities for poking fun at the era, from set design employing shag carpeting to Roger's horrible wardrobe and Alice Cooper's cameo as himself. Depp truly pulls off the character, with the overly theatrical makeup and quasi-British accent, and Eva Green definitely was having fun as the bewitching Angelique. It's hard to say where things really went wrong with the film. Perhaps it was just a little too lighthearted and lacking any real mythological basis (do witches create vampires by cursing them?) and the love story between Barnabas and Josette wasn't really working for me. In the end, Dark Shadows isn't a bad film, it just feels like it's missing something truly poignant to keep the audience enthralled and satisfied at the end.
Originally shot on 35mm film, Dark Shadows comes to Blu-ray with a very clean and crisp presentation that reveals the film-like textures, only suffering every so often from a bit of black crush due to the nature of Bruno Delbonnel's cinematography. The color palate is rather drab and desaturated, with the exception of deeply saturated blues and reds. Details are clear and refined, though they can get a little muddled in the aforementioned dark spots. It's a film that feels intentionally cold and dreary and that translates well to the small screen. Colleen Atwood's great costumes are definitely harkening back to the fashion mess of the 1970s, but at the same time offering some great timeless options (in particular for Angelique's dresses), all of which "pop" on the screen.
Audio is presented in a DTS-HD Master Audio 5.1 English track that showcases the immersive nature of the sound mix; not with directional sound effects, but with ambient audio design. You truly feel placed in every scene, with a fully realized world in your speakers coming at you from all sides, but not overtly. Benefitting from the mix as well is Danny Elfman's moody score, with prominent use of the solo alto flute used as homage to the original television series' music. While Elfman avoids using any of the themes from the series (it would have been great to hear Elfman's take on the main theme), his themes for Barnabas and Angelique start to grow on you by the time the movie really gets going. Also sounding great are the vintage 1970s songs scattered throughout the film, reminding us (if we didn't have enough visual cues already) that we are indeed watching a period film. Other audio options include French, Spanish and Portuguese Dolby Digital 5.1 tracks.
Dark Shadows comes to Blu-ray with only two extras, but the main one is pretty satisfying. It's billed incorrectly on the package as a "Maximum Movie Mode," but in actuality is a standard picture-in-picture track with "focus points." The PIP track only has a few moments where nothing is going on, and it takes a rather in-depth look at the whole project, even starting back with the original series. The phenomenon of the gothic soap opera is discussed, with Burton and Depp explaining how they wanted to do a film version for years and how their approach differs from the series. Many different members of the crew show up to talk about their involvement and, as the film progresses, key moments are explored with behind-the-scenes footage. There is a pretty solid amount of time spent with Danny Elfman discussing the approach to the music and a few major sequences are presented with music-only audio as we watch the orchestra playing the music at the scoring sessions in the picture-in-picture window—a very nice treat to have. The "Focus Points" can be viewed branched off from the PIP track or viewed separately. They are 9 different featurettes (HD, 37-minutes), exploring different aspects such as Depp's transformation into Barnabas Collins, production and set design, visual effects, stunts and more. Finally, there five "Deleted Scenes" (HD, 6-minutes) which primarily just expand a bit on some character moments, not offering anything truly monumental, and could have easily remained in the film without affecting the tone.
Unfortunately, that's it for the supplements—we don't even get a trailer, which seems to be more and more common these days. I am also not much of a fan of WB's new Blu-ray menu system, which feels incredibly generic and dry, with big circular icons and no character, making an annoying "hiss" noise every time a menu is brought up.
Dark Shadows is a quirky film that doesn't take itself too seriously. It's a bit hammy at times, suffers from some minor plot holes, and seems to be more of a comedy than the gothic drama that fans of the original show were probably expecting. It's certainly not a bad film, but it doesn't hold up as well as much of Burton's earlier works.
News &amp Articles
Missing Information?
If any information appears to be missing from this page, contact us and let us know!