Movie Information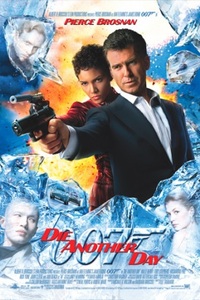 Die Another Day
Released: November 22, 2002
Movie Purchasing Links
Review: Die Another Day (Ultimate Edition Blu-ray)
by Dan Goldwasser
October 25, 2008
3.5 / 5 Stars
The twentieth James Bond film, Die Another Day, was Pierce Brosnan\'s fifth outing as the British spy.  The 2002 film came on the 40th anniversary of the film franchise, and involves the rather timely conflict around North Korea, and the attempt by questionable billionaire Gustav Graves (Toby Stephens) use of a dangerous satellite to spark a new war between North and South Korea.  Joining Bond in what would be Brosnan\'s last Bond film is Oscar-winning actress Halle Berry as "Jinx", an NSA agent who is helping Bond track down the notorious Zao (Rick Yune), a North Korean who appears to be helping Graves with his plan. Scattered references to previous Bond films helped make this "anniversary" entry entertaining, and director Lee Tamahori did a good job with the locations and action sequences.  Even if it doesn\'t hold up as the best of the Bond films, it is one of Brosnan\'s better adventures in the role.
Released in 2003 on DVD and then again as part of the new "Ultimate Editions" that were released on DVD back in 2006, Die Another Day didn\'t require much work.  Still, Lowry Digital, known for their work restoring such films as Star Wars and Citizen Kane, gave the film a quick scrubbing, and now as part of the first "wave" of James Bond releases to hit Blu-ray, along with five other Bond films (all in anticipation of the newest adventure, Quantum of Solace).  The movie looks excellent, sounds great, and has all of the extras previously released on the DVD version.
Video: One of the more recent Bond films, Die Another Day looks great in 1080p.  Shot in scope, the image looks about as good as any modern film is expected to look.  There\'s some grain, but it\'s never intrusive and feels pretty natural.  It\'s not quite reference quality, but it\'s pretty darn good looking.

Audio: Released in a 5.1 English DTS-HD Master Audio, Die Another Day sounds excellent.  Fully immersive and loud, with clean dialogue and great use of music and sound effects in the rears.  It\'s a punch track, and David Arnold\'s score blasts at you when needed.  Spanish Dolby Digital 2.0 and French 5.1 Dolby Digital are included as well.
Supplements: This is the "ultimate edition" of Die Another Day, and features only some of the extras from the previous DVD release (more on that later).  The menu is broken down into a few "thematic" sections, so I\'ll address them here individually.
MI6 Commentary: Two commentaries are included on the disc.  The first one features actor Pierce Brosnan, who is later on joined by actress Rosamund Pike.  It\'s a really informative and entertaining commentary - completely different from the dry doldrums of Roger Moore\'s on the previous discs.  There are the occasional gaps as Brosnan watches the movie, but he has some great thoughts here.  The second commentary is with director Lee Tamahori and producer Michael G. Wilson, which provides more information into the story and production of the film - it\'s a solid and well done track, though it\'s presented with Tamohori in the left channel and Wilson in the right channel - so it\'s a bit weird to listen to.  Finally, the seamless branching "MI6 Datastream" features a pop-up trivia track as well as branching featurettes that take you behind the scenes of the film.  Interestingly, since these were all done for the DVD release of the film, they didn\'t re-do them in HD. So while the trivia popups are in HD, suddenly the video will change to a standard definition video source (up-scaled to 1080p to remain seamless) for the branching segments.  It feels odd, but provides an unintended benefit where you can compare the HD version of the film to the SD version!
Declassified: MI6 Vault: Five featurettes are included here, all in 16x9 standard definition.  First up is "From Script to Screen" (50-min.) which gives an in-depth look at the development of the 40th Anniversary Bond film.  "Shaken and Stirred on Ice" (23.5-minutes) looks at the location shoot in Iceland, the Ice Palace, and the icebound car chase. "Just Another Day" (22.5-min) looks at a day in the general production shoot and how the Buckingham Palace parachute sequence was handled.  "The British Touch: Bond Returns to London" (3.5-minutes) is a short look at the tie-in with British Airlines.  "On Location with Peter Lamont" (14-min) looks at all the various location scouts for the real-world locations seen in the film, including Cuba (though they didn\'t film there), Iceland, and other locales.
007 Mission Control: This unique "interactive" listing lets you view your favorite moments from the film, organized by category: "007", "Women", "Allies", "Villains", "Mission Combat Manual", and "Q Branch".  "Exotic Locations" (HD) runs 3-minutes, narrated by Samantha Bond ("Miss Moneypenny"), and takes a look (using the film\'s footage) of the various world locations that the movie was shot in. In this case, most of the locations are in Hawaii, England, Spain, Iceland and Wales. The "Opening Titles - Textless" is also included, which is a nice touch, letting you see Bond\'s torture sequence a little more clearly. Too bad the Madonna song is dreadful.  I hope the other Bond releases can keep this "textless" feature when possible (especially Goldfinger)!
Image Database: An extensive still-frame image database is included in HD, although the photos don\'t seem to take up more room than a SD feature would have.  Broken down into "Cast Portraits", "Special Photo Shoots", "Sets & Locations", "Stunts & Special Effects", and "Vehicles & Gadgets"
Shockingly, a bunch of extras found on the DVD are missing from the Blu-ray release.  Gone are the featurettes on "Title Design", "Digital Grading", "Scene Evolutions", "Inter-Action Sequences", "Equipment Briefing" and even Madonna\'s music video.  Even worse, no trailers of any kind are to be found.  What gives??
It\'s hard to imagine that this is the "Ultimate" edition of the film, if you have to keep your old 2003 DVDs just so you can have all of the extras. Still, on Blu-ray Die Another Day looks and sounds great, and the extras as solid but disappointingly incomplete.  It would have gotten a higher rating, but I would have liked to see the extras live up to the standard set on all the other Bond Blu-rays released.
Trailer Music Used From
Theatrical Trailer
"Running Two" Run Lola Run (1999) - Tom Tykwer
"The Winner" - The Crystal Method
"James Bond Theme" (1997) - Moby
Teaser Trailer
"Original Trailer Music" - ParodiFair
Teaser #1 - "Goldeneye" Trailer Music
"James Bond Theme" (1997) - Moby
Teaser #2
World is Not Enough, The (1999) - David Arnold
Teaser #2
TV Spots
"Original Trailer Music" - ParodiFair
"Goldeneye Trailer" - ParodiFair
"James Bond Theme" (1997) - Moby
"James Bond Theme (Bond vs. Oakenfold)" (2002) - Paul Oakenfold
"Die Another Day" (2002) - Madonna
Missing Information?
If any information appears to be missing from this page, contact us and let us know!